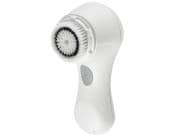 Reviews For
Clarisonic Mia First
Great Investment
The Clarisonic has made my skin routine 10 times better. It enhances my face wash and helps get deep into poors. I definitely recommend purchasing! LovelySkin Customer
Verified Purchase
Mia First is just as good as Mia 2!
I have now purchased both a Mia 2 and Mia First. If you are not looking into a set timer or two settings, I would recommend the Mia First from an economical perspective. It is much cheaper and to me works just as well. LovelySkin Customer
Verified Purchase
Great Product
I love the Clarisonic Mia First. LovelySkin was great to work with. They had the best price. The shipping was fast. Great Product. LovelySkin Customer
Verified Purchase
Great for Entire family
I began using the Clarisonic Mia two years ago. Now, my husband and children also use the Mia. Its a terrific product youll love whether just you and or others in your family. Thats why I ordered a seoncd Mia. LovelySkin Customer
Verified Purchase
LOVE IT !!!!!!!
I have been wanting to try a Clarisonic for a very long time, but I did not want to invest the money just to discover I didnt like it or it didnt deliver the same outstanding results Ive read in so many reviews. My older sister was given one as a gift and she thought it was just "OK", so I asked if I could try it. LOVE IT !!!!! Im in my early 50"s and have had acne prone skin since I turned 13. The Clarisonic makes my skin feel incredibly smooth. I no longer need to invest in a separate product to exfoliate. It has dramatically reduced the number of white and black heads in the T-zone. My 13 year old son even commented on how soft my skin looks! Amazing. LovelySkin had the absolute BEST PRICE and I did a lot of research. I only wish Id purchased one sooner. LovelySkin Customer
Verified Purchase
Works great!
After using this product for approximately two weeks, I can already tell a big difference in my skin. I am careful not to use it too often in order to avoid irritation, but this product really is a great deep cleaning method if used at the proper amount for your skin type. After using it once a day, my skin is smoother and my acne-prone skin is already experiencing a dramatic decrease in breakouts. I have suffered from acne for over ten years and this product is already doing amazing things for me!! I cant believe I havent gotten one of these before now! LovelySkin was also a great website to go through and they offer the best deal I have seen yet on Clarisonic. LovelySkin Customer
Verified Purchase