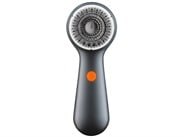 Reviews For
Clarisonic Mia Men Sonic Facial Cleansing Brush
Highly Recommend!!!
I had a $20 facial brush (AA battery powered) which went thru batteries like a house-a-fire and thus my purchase. Off one charge (USB rechargeable) My Mia MENS facial brush has gone weeks before needing another charge. With the Mia brush, only the center most bristles (about a quarter size) spin. I think I'd prefer the full head spin but it is what it is, thus it does give a good cleaning of my face, forehead, ears and neck. I am quite satisfied with its performance and extremely happy with its power and battery longevity. I would repurchase this facial brush if I had it to do over again. The handle is nice also for gripping as I have severe arthritis in my hands and have trouble gripping some items. I really appreciate the ability to recharge the internal battery. I allow the brush to completely deplete its charge prior to recharging so as not to allow the battery to attain a "memory", thus limiting its power and longevity. I'm unsure if this is necessary, but just to ensure the longest life possible, I'm following this process. I'm overall quite happy with my purchase and would do it again. Mpowell5531
Verified Purchase
All Seems Great, Except the Gap in the Middle
I'm prone to blackheads, so I've always tried things to stay on top of it, so my nose and temple areas stay as clean as possible. For the last 10 years, or so, I've gone through 3 different battery operated $20 face cleansing brushes. I've learned that together with a salicylic acid face cleanser, they do a good job of keeping blackheads away. Recently the brush I had died, so I thought I'd try and stop it up and see if there's a wonderful brush it there. I ended up with a Clarisonic Mia Men Sonic Facial Cleansing Brush. I guess it's cool that it's rechargeable and a little larger than what I've been using but what I don't understand, and don't like, is that the Charcoal Detoxifying Brush Head I got with it has a large hole in the center. About a nickel size hole with no brush head in the middle. Very strange and inefficient to try and clean your nose with a hole in the middle. Other than that piece of inefficiency, the size and color are good for a man. Still using a good salicylic acid face cleanser and hoping enough gyrations compensates for the gap in the middle. mikelgardner
Verified Purchase
My husband loves it!
I got this new handheld version of Clarisonic Mia men for my husband and he loves it very much. He says its better than the previous version and the new charcoal infused brush. Highly recommended. LovelySkin Customer
Verified Purchase