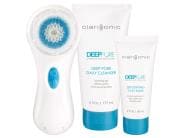 Reviews For
Clarisonic Mia 2 Deep Pore Cleansing Kit
I wish I'd bought one sooner
I've known about clarisonic for years but finally caved in and bought one since my skin texture hasn't been improving. I wish I'd bought one sooner. It's no gimmick when they say it improves the look of your pores by 25% after one use - My skin actually looks smooth! I've struggled and cried in frustration over my skin before, but now I'm excited and hopeful. LovelySkin Customer
Verified Purchase
Clarisonic
I have been wanting try the Clarisonic for quite some time. I found a great deal on this website. The shipping took a bit longer than some, but the product wa last worth the wait. My skin looks better than ever. I have been dealing with acne for what seems like my whole life. I highly recommend the clarisonic and really like the face wash that come with it. It's a splurge, but completely worth the price. LovelySkin Customer
Verified Purchase
Clarisonic Mia 2 Deep Pore Cleansing Kit
I love the cleanser along with the moving brush head. They get my face cleaner than it has ever felt by washing with my hands or a washcloth alone! The mask is great every few days as well. I have definitely noticed a huge difference in my skin's appearance. My complexion is much more clear and the tone is more even. Great product at a great price! LovelySkin Customer
Verified Purchase
Great product!
Best purchase yet! Keeps my face feeling refreshed. LovelySkin Customer
Verified Purchase
Quality is not as good as before
I had a Clarisonic Mia before. It ran great til it died out after several years. But I got the new one, this time after the 3rd use the brush has no power. It is good brush, but... LovelySkin Customer
Verified Purchase
Pleasant Surprise.
The Clarisonic Deep Pore was at one time a love hate relationship. At first I hated it, after my first usage I noticed small bumps on my skin which, I assumed was normal since I was purging my skin and giving it deep exfoliation. After consistent use of 3-4 days after my skin cleared up and it hasnt felt this smooth in a long time. I am not a fan of the gel cleanser that comes in the kit but I do enjoy the clay mask. I am a huge fan of clay masks. This one in particular is a perfect travel size for mini vacation and it is not overly drying on the skin and the best part is that I can still move my face and speak (I have tried some that cause such stiffness that I cannot move my face). Highly recommend this product a must have for everyone! Men and women included.