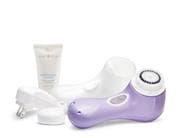 Reviews For
Clarisonic Mia 2 Sonic Skin Cleansing System
Review MIA Sonic Cleanser
I have been really pleased with the Mia that I purchased. It is easy to use and my skin feels so clean after each use. I would highly recommend this product. LovelySkin Customer
Verified Purchase
Mia
Great product. Face feels very clean. LovelySkin Customer
Verified Purchase
Clarisonic Mia 2
I love this device. I have had my Mia 1 for at least 5 years, maybe longer and loved it from first use. It is getting old and does not hold a charge very long so I have been thinking about getting a new device. When I started looking the newest models seemed much more than what I need but I liked the idea of having a second speed. The Mia 2 is just as I expected and I a so pleased! I am now using both, one at my lavatory and the other in the shower. What a luxury as long as my Mia 1 last. LovelySkin Customer
Verified Purchase
Another great Clarisonic Brush
This is my 4th Clarisonic purchase. It costs a little more but you get so much more. You are able to use different types of brush heads and attachments. Makes this brush the best buy as no other brush is capable of such diversity. LovelySkin Customer
Verified Purchase
Mia 2 sonic skin cleanser system
This is my 2nd generation Clarisonic that I have had over a 10 year period. My first one quit charging after about 8 years, so I purchased the ,Mia 2 and I love it. I have mature skin, and I use it daily on the gentle cycle. I do not wear makeup, but do wear products and sunscreen, and like good clean skin at night so my skin care night routine absorbs in my skin better. I highly recommend this product to young and mature skin alike. LovelySkin Customer
Verified Purchase
Love the MIA
This is a great exfoliator and cleanser. I like to use it in the morning before I put on my C serum. Really makes my skin smooth and prepped for my skincare! Love my Mia 2
Had the original Clarisonic and I upgraded to the Mia 2! Love it! Is smaller, travels better and seems more efficient when cleaning. Highly recommend! Sadiedog
Verified Purchase
Mia 2 in black
I purchased this in black, and use it everyday in conjunction with the Men's face wash and brush. I highly recommend it - it leaves my face feeling very clean. Clarisonic Mia 2 Sonic Skin Cleansing System
I absolutely love this system. I immediately had better skin. I only wish I had ordered it sooner. I ordered one for my daughter and she has been using it for a while. I should have listened to her review and ordered one sooner. It is probably my best purchase for my skin. Love, Love, Love it. Thanks LovelySkin Customer
Verified Purchase
Really helps get makeup off!
My skin is so much cleaner after using my Clarisonic. I only use it at night to ensure removal of my makeup, but there is a notable difference when I don't use it. My only peeve is that I don't have a drying rack for it. The brush gets stinky if it it's not removed form the unit nightly, so it's a little cumbersome and messy to have it on my vanity. Maybe I will upgrade to a better model for Christmas! LovelySkin Customer
Verified Purchase
Clarisonic Mia
The Clarisonic is an awesome product! It works great cleaning your face and keeping your pores clean. I used to just clean with a wash cloth and soap. I am never going back to that now. It removes makeup and dirt better then just using a cloth. It's fast and easy to use. I highly recommend for any skin types. I have acne prone skin and generally oily. It has helped with the breakouts and over all complexion. LovelySkin Customer
Verified Purchase
Effective Exfoliator
After eyeing up a Clarisonic for years, I decided to pull the trigger and buy the Mia2. I used it morning and night on the low setting/sensitive head for several days when I started to break out. This exfoliator is too strong for consistent daily use on my sensitive skin, so I switched to evening use twice/week, and it works well. Its a good tool to remove makeup/sunscreen at the end of the day so your skincare products are more effective, and my skin texture is soft and supple when I do use it. Overall, I like the Mia2 but wish I could use it more often. LovelySkin Customer
Verified Purchase
Worth every penny!!!
Clarisonics live up to the hype. Once you have one you could never go back to washing your face by hand. My skin is never felt smoother or looked better. Get one! You wont regret it. LovelySkin Customer
Verified Purchase
Clairsonic Mia 2 Skin Cleansing system
My sister had purchased the Clairsonic and after seeing how great her skin looked I thought I would give it a try too. Boy am I glad I did! I noticed a difference in my skin after just two uses. It is easy to use and well worth the purchase. I am very happy to have purchased the Clairsonic Skin Cleaning system and I liked it so much I purchased another for my daughter. LovelySkin Customer
Verified Purchase
Clarisonic Mia 2
I purchased the Clarisonic Mia2 and my skin has gone from flaky to smooth because in the summer months I am usually dry. I heard from our two daughters how much they liked their Clarisonics and finally decided to buy one from LovelySkin.com. after checking several sites for the best price. I am thrilled with the results on my chin, nose and forehead being free of flaky skin after using this Clarisonic Mia2. After forgetting to use it for a few days my skin started to get flaky again, since I suffer from eczema. It became very visible after I put on my base makeup. Now that Ive learned what the Clarisonic does for my skin, I use it faithfully and will continue to use it on my 60 year old skin. I love getting a complement from my husband about how good I look when I wear makeup but the best is going without makeup and still have a glowing smooth look. LovelySkin Customer
Verified Purchase
Just like a daily facial...
An aesthetician recommended purchasing a Clarisonic to help with my clogged pores. I am seeing a difference based on using it once each day. My clean looks and feels cleaner. It feels smoother too. LovelySkin Customer
Verified Purchase
Mia2 Awesome CLEAN
This product will cleanse your face so well. My face has less breakouts and is less oily. Great product, so glad I bought it.... LovelySkin is the only place I purchase all my high end products. Super fast shipping and I love the xtra % I get off due to my membership. LovelySkin Customer
Verified Purchase
Great product
Great product. I have very dry and sensitive skin and I can only use Clarisonic every other day. Otherwise its a little too much, even with the Delicate Skin brush. The original gel was rather abrasive for me, so I use EltaMD Foaming Facial Cleanser. The combination is great and makes a fantastic addition to my beauty routine. LovelySkin Customer
Verified Purchase
Clarisonic Mia2
If I were stranded on a desert island, this is the one product I would take with me. A faithful regimen with the Clarisonic will take years off of the appearance of your skin. LovelySkin Customer
Verified Purchase
LOVE
The feeling your skin feels after is priceless. Feel good to use and leaves the skin so smooth! I use a micellar water after and there never was any dirt/make up or anything on the cotton. Did not dry my skin at all. LovelySkin Customer
Verified Purchase
Love This Product!
This product is so easy to use, & does a great job! Does a much better job than just normal cleansing you do with a washcloth. I actually own one myself & have just bought 2 of them, one for each of my adult daughters. Recommend to my friends. Good cleansing tool so far!
I have been only using the Clarisonic Mia2 for about 2 weeks now so I do not yet notice a significant improvement. Im pretty good about cleaning my face before I bought the tool though. I use make-up wipes on my face to remove my make-up then I cleanse. When I use my toner after the Clarisonic I dont notice a significant difference on the cotton swab before I started using it. Although I do believe the products I use afterward may be absorbed better and other people I know who use this say they have noticed their pores decrease in size. Too soon for me to notice that yet. LovelySkin Customer
Verified Purchase
Clarisonic Mia 2
I have used my Mia 2 only 3 times. That is why I am giving it a 4 stars because I have not used it long enough to know if I am completely happy with it. So far, I love the way my skin feels after I use the Clarisonic. Its smooth and feels super clean. I like the size of the Mia 2 and love the color. I only use it every other day instead of twice a day. I feel that my skin doesnt need to be deep cleaned everyday since I dont always wear makeup. So far I love it. LovelySkin Customer
Verified Purchase
Could Not Live Without It!
My Clarisonic Mia 2 travels everywhere with me. I have used it with several different types of cleansers and it works great with everything. When I go a couple of days without using it, I notice a DEFINITE difference in the clarity and over all glow of my skin. Fantastic product to kick any skincare regimen up a notch! LovelySkin Customer
LovelySkin Employee
Clarisonic Mia 2
This is the first time Ive used a device like this. I purchased the Mia 2 and so far have been happy with it. I like that it gives you a signal to switch from one area of your face to another by buzzing. It keeps you from overdoing it on any one section of your face. It seems to be cleaning my face well. My only comment would be that it seems to take an awful long time to charge. Documention says 18 hrs for a full charge which means you most charge it overnight. It glows when its charging so do not put it near your bed anywhere...its kind of bright. Ive had it for less than 30 days and have charged it twice...once when I got it and just the other day. LovelySkin Customer
Verified Purchase