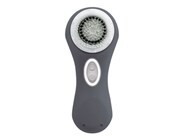 Reviews For
Clarisonic Mia 2 Sonic Skin Cleansing System Grey
My skin is so much smoother now!
I started using this to get rid of my peeling skin while on Obagi. I use the Clarisonic on my shoulders, chest, neck, and face. The fine lines around my eyes have become noticeably less. I used to just clean with a washcloth and cleanser, but always realized that there was makeup still on the cotton ball when putting my toner on after. Problem solved with the Clarisonic. Definitely worth the money. I got the two replacement heads as well. I searched for the best deal for quite a while and found LovelySkin.com to be the cheapest, while still being an authentic clarisonic. LovelySkin Customer
Verified Purchase
Get it!
I can't imagine not having this! I was told that this would help with so many issues, pore size, wrinkles, uneven tone, texture, etc and they were so right! I love seeing the improvements that are still happening even months later! Spoil yourself and get this. You won't regret it LovelySkin Customer
Verified Purchase
Favorite Device
Purchased the grey CLARISONIC for my nephew, great gift for a man. I have purchased many clarisonics as gifts because I am a fan of this device. I love mine! Great Tool for Keeping Skin Clean
This is the 4th Clarisonic skin cleansing system that I have owned. I have found that Clarisonic provides an excellent way to keep my face clean and "really" remove make-up so there is little to no residue left on the skin. My face is not as dry when I use it and I get the best results when I use the Mia2 twice a day. I purchased this one so that I would have one to use in the morning and one to use in the evening. This product is appropriate for teens and above. LovelySkin Customer
Verified Purchase
Yes, finally!!
This product worked wonders for my son. At 18 he started developing acne. We took him to a dermatologist who prescribed a very expensive facial ointment. Didnt work. The clarsonic did. My son had dramatic results in just one week. I cant imagine how things will be in the coming weeks! Yay!!! LovelySkin Customer
Verified Purchase
Only one month. .
I have only used my Clarisonic for a month and I feel that my skin is smoother already! It is very easy to use and the skin cleanser is wonderful. I can hardly wait to see how my skin looks in another month. Thank you! LovelySkin Customer
Verified Purchase