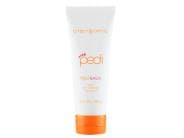 Reviews For
Clarisonic Pedi-Balm Sonic Foot Softening Treatment
I Really Like This Product
I use the Clarisonic Balm Softening Treatment after I use a few drops of the Renewing Peel Treatment. I use it at night put on a pair of socks and wake up to Ultra-Soft Feet. I love this product, my feet look so wonderful I have cut my Pedi visits in half !!! LovelySkin Customer
Verified Purchase
Clarisonic Pedi-Balm Sonic Foot Softening Treatment
I received a sample of this foot cream and I am very picky about my feet being soft. I buff my feet every 2 weeks, and put foot cream on with socks every night before I go to bed. I can't wait to use this as I currently live in Florida, and I'm moving to Virginia to the cool dry air. LovelySkin Customer
Verified Purchase
expensive, but does work
I, too, would have given this product five stars if not for the price. This cream really has made a difference in the softness and smoothness of my feet. I stopped using it for a while in favor of a lower cost cream, and I noticed the difference. This is now the only cream I will use on my feet. Even my nail technician notices! LovelySkin Customer
Verified Purchase
Love, Love, Love this Product!
I wished I had found this product 20 years ago. It is terrific! It makes my feet feel as soft as a pillow. It works great with the Clarisonic Pedi. You really cant believe its your feet! I wish I would have had this product and tool years ago. My feet look perfect in my sandals now. LovelySkin Customer
Verified Purchase
Good lotion
Love the smell. Use it on hands, feet, elbows. I dont think it is exfoliating but it certainly is nice and thick. The only reason why it didnt get 5 stars is the price. LovelySkin Customer
Verified Purchase