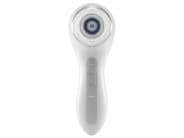 Reviews For
Clarisonic Smart Profile Skin Cleansing System - White
Pleased with purchase!
This is my third and favorite clarisonic I've owned. I had a Mia that was less than two years old, but it wasn't working correctly anymore. My first mia died on me as well after a few years, so I decided to get a new one before mine ceased to work at all. Since using clarisonic to wash my face I never feel my face is clean without it. I was skeptical of the "smart" aspect of this one, but have to admit I like this one the very best. My face feels smoother than ever and it really does have the right amount of power for me when I run it on the smart cycle. You can also use it on whatever setting you want between 1-4 or turbo. This clarisonic includes a body brush and it works fantastic too. I enjoy using it about twice a week. One thing that's quite different about this clarisonic than my previous models is that it doesn't come with a charging base. It charges using a cord with what seems like a small magnet on the end that sticks to handle of the brush. I miss the base as somewhere to set clarisonic since I keep mine on the countertop. However, I'd pick this model again for the superior performance. LovelySkin Customer
Verified Purchase
Satisfied
I had to spend some time on reading the manual to use the product as fully as I could and it was a lot of help. The smart brush that comes with it has the new smart technology installed on it but I found my facial skin a little bit irritated after use (not too much though). So I use Luxe facial brush with it and i could cleanse my face gently. LovelySkin Customer
Verified Purchase
Love it!
I'm 64 yrs old and am constantly told my skin is fabulous and I don't look any where close to my age. I have used a clarisonic for 11+ years. It took a few months to "iron out" some wrinkles. I use my clarisonic everyday on my face, neck, and chest. I do not feel my skin is totally clean w/o it. The body brush is a major plus w/ the Clarisonic Smart Profile. I will always have this product. LovelySkin Customer
Verified Purchase
Love, love my Clarisonic!
I looked at these brushes for quite a while but did not purchase until they came out with the smart profile that automatically adjusts to your skin type without having to be overwhelmed by the selection of all of the different brush heads!!! It's a must buy. LovelySkin Customer
Verified Purchase
Clarisonic skin cleansing system
Love it. Gets my skin very clean and keeps it glowing. LovelySkin Customer
Verified Purchase
Fabulous Clarisonic Smart Profile !
Clarisonic Smart Profile cleansing system is absolutely fabulous. Before I found Clarisonic, i was using D''Arsonval, but you can hardly compare them. Clarisonic makes your skin look like " Baby skin" and also cleans your pores great. I purchased one for myself 2 years ago and now i bought another Clarisonic for my daughter. No complaints! LovelySkin Customer
Verified Purchase
Clarisonic Smart Profile
Incredible! Ive used a Clarisonic since they came on the market, which is quite awhile. Ive used the Pro, and never had any issues with it. Ive been tempted by the Smart Profile, as its an improved model and has new features, but held off because my Pro was in perfect shape. My daughter needed a new Clarisonic and suggested I give her my Pro and treat myself to the Smart Profile. Smart girl! The ability to customize or use standard settings is a nice option. Its has more features and includes a disc to soften your heels. Its great You wont be disappointed with this top-of-the-line model and the options it offers. LovelySkin Customer
Verified Purchase
Amazing product
Did a lot of research as my skin is sensitive and did not want to buy it and not use it... First the price on lovelyskin is unbeatable. Cheaper I have found. Second I love the fact that this Clarisonic device works on body AND face. Third very easy to use, waterproof so I can leave it in my bathroom until I need to charge it. Using it for the past 2 weeks and so far only good things to say :) LovelySkin Customer
Verified Purchase