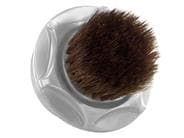 Reviews For
Clarisonic Sonic Foundation Makeup Brush
A Great Tool!
I love this brush! Applies both primer and foundation evenly with a nice, smooth finish. TravelGirl
Verified Purchase
I will buy again
This brush head works to blend in facial makeup better than expensive brushes I have bought, and, of course better than my fingertips. I was skeptical but found it to be as was described in the product description. As a bonus, it is faster, and easier to use it versus other makeup application tools and it goes with my other Clarisonic brush heads, so I only needed to buy the head—all very easy to take while traveling, which is when I am most particular about my makeup kit. Better Application
Brush doesn't hold onto my liquid makeup like my other brushes. Easy to clean. Would recommend ! Makeup brush
This is great. I love the Clarisonic and this brush is so nice. Makeup goes on smooth and even. Very little makeup on the brush. Easy to clean. Really nice. I would definitely recommend this Clarisonic and the makeup brush. LovelySkin Customer
Verified Purchase
Like magic!
I formerly used a sponge applicator, but it soaked up so much of my expensive foundation I thought I would give this brush a try. I still have to use my fingers to dot the foundation on my face, but the brush blends it so smoothly that it looks like it was airbrushed on. LovelySkin Customer
Verified Purchase
airbrush finish
I was dubious about this brush at first, but after a number of months of use have grown to love it. The bristles are soft and non-irritating. Liquid foundation, coverup and cream blush go on easily. I had not been using cream blush, but now find it is my favorite form for my mature skin. It doesn't lay in my wrinkles. Cleaning with soap is easy. The only down side is the middle section containing the bristles tends to come apart easily as I snap it into the base. Also, the base tends to accumulate foundation with some difficulty getting it completely clean. Otherwise, it is so much cleaner than a regular brush! LovelySkin Customer
Verified Purchase
Like It!
This brush is growing on me. I wasn't all that impressed the first time I used it, but the more I use it the more I like it. It seems to help make my makeup last longer. Getting even concealer coverage under my eyes used to be tricky - always seemed a bit blotchy, but it's no longer an issue with the brush. I think it also makes pores look smaller. I'm not into contouring, but if you are, I think this brush would be a must have since it blends so well. LovelySkin Customer
Verified Purchase