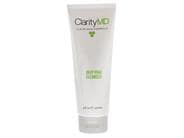 Reviews For
ClarityMD Deep Pore Cleanser
Thankful for ClarityMD
Lil Debbie recommends this cleanser, and I'm so glad I tried it. I've been washing my face with it twice daily and in about three weeks have noticeable results. I'm so impressed, this is a product I will be keeping at home for my regular routine. LovelySkin Customer
Verified Purchase LovelySkin Customer
Verified Purchase
Best face wash!
Love this face wash. Gentle & effective LovelySkin Customer
Verified Purchase
Reduces and Prevents Breakouts
This is the first cleanser I bought for my pre-teen son. Once he started using it, his breakouts reduced greatly! My husband likes it too! LovelySkin Customer
LovelySkin Employee
Love this product!
Such a quality product for a good price! I suffer from bad cystic acne, and this product really helps to keep it under control! LovelySkin Customer
Verified Purchase
Clarity MD deep pore cleanser
It's pretty good at keeping breakouts at bay and really good on pores! LovelySkin Customer
Verified Purchase
Great product.
I've been using this product for 6 months. I used proactiv, but after 10 years of being a vegetarian, I went vegan. I researched and found this product. I usually don't give anything a perfect rating, but It works better than my previous regiment. LovelySkin Customer
Verified Purchase
Good for acne!
I have hormonal acne and (along with other treatments) this face wash has helped clear my skin. I have oily skin and it helps clean the oil out of my pores morning and night without over drying. I've tried drug store face washes and always end up coming back to this product because it works well and is worth the price. LovelySkin Customer
Verified Purchase
Best product
I am 31 years old, and I have been using this product for the past two years. Around age 29 I started to get acne on my chin (possibly stress-related), but I have never dealt with acne much before that point. Clearly, at that age, I started to panic and searched for a solution. That's when I found this product. It took about two months for it to clear my face completely, but since then, it is kept me nearly acne-free for two years. Of course you''re going to get an occasional pimple, but my chin does not get covered in pimples anymore which is glorious!! Another amazing thing is, unlike other face washes I've tried, this one doesn't dry out my skin...super win right there! LovelySkin Customer
Verified Purchase
A Mild Facial Cleanser for Adult Acne!
There are some great things about this facial cleanser, which are that it is soap free, does not contain harsh sulfates, and does not contain fragrance. And I found it to be a very mild cleanser and it did not dry out my skin. On the other hand, I did experience some whiteheads on my face after cleansing my face with it, and I am not sure if there was a specific ingredient in it that was causing this reaction. LovelySkin Customer
Verified Purchase
Clear skin
I bought this cleanser for my son who is 11 going on 12, and was beginning to break out on his nose and forehead. This cleanser works. He's beginning to clear up. He also has sensitive skin, and this cleanser did not aggravate his skin. I have used this cleanser myself for adult acne a couple of years ago, and it helped to clear me up in addition to their acne gel. LovelySkin Customer
Verified Purchase
Best acne face wash
This is without a doubt my favorite acne face wash! It has the perfect amount of suds to make you feel like you're cleaning your skin deeply without making you dry. I highly highly recommend it. LovelySkin Customer
Verified Purchase
Former Fan
I used to love this cleanser...but then they recently changed the package and formulation. It's a smaller tube which means less product for the same price. Also, it used to have a thicker gel like consistency that lathered well and required only a small amount to cleanse my face. Now it's much thinner with a more watery consistency and pours out of the upside down tube when you flip the lid open, wasting a lot of product. Back on the search for a new cleanser ***sigh*** LovelySkin Customer
Verified Purchase
Good Basic Cleanser
I use a Clarisonic to wash my face and find that this cleaser is more like a liquid than a gel, and because of this is a bit difficult to use with the Clarisonic. Other than that, it does leave my skin feeling really clean but not at all dry or tight, and I appreciate that it's fragrance and dye free. LovelySkin Customer
Verified Purchase
Gentle for acne prone skin
Finally, I found my favorite cleanser! It makes my skin purify, smooth and fresh! Love the gel texture, non greasy, good for combination skin! I'll buy another one, just for back up! LovelySkin Customer
Verified Purchase
Clean skin!
After using this product, my face is clean and my pores are thankful. How do I know? My breakouts are going away. LovelySkin Customer
Verified Purchase
Repurchased!
On my third or fourth container of this, can't remember, but I love it. I do wish it was more effective for my hormonal acne on my lower half of the face but it keeps my skin clear everywhere else. What I love about this the most is that it is effectively washes away all of my makeup at the end of the day, and it does so very gently and does not turn my face red and most importantly does not dry out my face (many acne cleansers do). I do pair this with their clarifying serum, which is another product I can't live without because it makes my existing acne smaller and less noticeable. I found that for me using this cleanser twice a day, it lasts approximately two months, which is a good deal. Love the smell of this also and the way it feels on the skin. LovelySkin Customer
Verified Purchase
Magic!
I have always had acne but it would especially get worse around my menstrual cycle. I tried all kinds of acne cleansers, toners, etc. and nothing really worked for me. I visited a medical spa and was given a sample of ClarityMD cleanser and after a week, I noticed my skin was really smooth and my breakouts had lessened. I've been using this for three years now and I wouldn't go back to anything else. LovelySkin Customer
Verified Purchase
Clean feeling
This product really cleans deep down in your pores and removes excess dirt/makeup. I've noticed a difference with clearer skin and diminished redness. However, it does leave my skin feeling a bit tight after use. Not using it everyday seems to help with the tightness. I also follow up with a good moisturizer, so it hasn't been a huge issue. Love!
I tried this in a sample pack & fell in love! It actually gets into my pores and my face felt amazing afterwards. Took away redness
I was not that impressed with this wash. It did take away any redness in my skin but I still felt oily. LovelySkin Customer
Verified Purchase