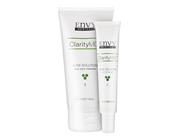 Reviews For
ClarityMD Acne Solution Kit
Like
I like this product, it's effective for acne control, and it's gentle on my skin. LovelySkin Customer
Verified Purchase
Love it
Absolutely love this product, cleared my pimples and black/white heads. Im 34 and have used lots of products but this one truly impressed me. I have oily skin and this cleanser is gentle on the skin, wont over dry and most important my skin looks healthy. LovelySkin Customer
Verified Purchase
Awesome
Bought this for my teenage son. He really likes it. This is a keeper!! Clears Acne Fast - and makes skin soft and smooth at the same time
I saw that this was voted best adult acne product by Hapers Bazaar, and so i bought the set online. Wow- now I know why. I have never used an acne product that made my skin feel so good. I also cleared my breakout up - gone within the first 10 days (its never severe, maybe 10-15 noticable pimples, but now there are none!). Even the blackhead only I noticed on my nose are pretty much gone (maybe a couple very hard to find instead of dozens sprinked about my nose). I am impressed - now i use the cleanser daily and the gel a couple times a week just on my problem zones - so far so good - no new acne problems and I am actually getting compliments on my skin!!