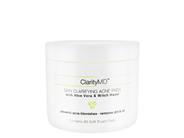 Reviews For
ClarityMD Skin Clarifying Acne Treatment Pads
Absolutely love this product!
My daughter has been using these pads for a few years now. They were recommended by a skin specialist.They really prevent acne breakouts and are not drying at all. Highly recommended! LovelySkin Customer
Verified Purchase
Must have
Ever since i have tried those pads, I can't afford not having them. I stock up in advance. My skin is prone to breakouts on my cheeks, and these pads have been working magic. 2% salicylic is really good for exfoliating the skin, keeping it young and fresh. I would definitely recommend those; you will love them. LovelySkin Customer
Verified Purchase
Love these!
These pads do wanders! They help to reduce acne flare ups and really feel like they clean out any dirt or bacteria without over drying. This little product is so powerful and shows fast results. LovelySkin Customer
Verified Purchase
Love these!
I am a backpacker and hated that I'd always come back from a weekend in the outdoors with a few pimples. A professional recommended these to help keep my face clear when I wasn't able to do my normal cleansing routine. I've used them backpacking and on the daily since. They are mild and really make my face feel clean compared to other cleansing pads that usually bring a stingy sensation. Highly recommend trying these! LovelySkin Customer
Verified Purchase
Helps clear blemishes
Easy to use, with no fragrance or smell. Well saturated and helps clear blemishes. Slight redness that goes away after use. LovelySkin Customer
Verified Purchase
Bye Bye Blackheads
As someone who has struggled with acne for years, I have tried numerous over the counter and prescription products. While the prescription meds took care of most of the issue, I have continued to experience blackheads and whiteheads. This product keeps my skin clearer. The pads feel soothing, seem to reduce redness, and dont leave my skin too dry or irritated. I also use the ClarityMD clarifying gel, but I love the pads for the convenience factor on busy days.