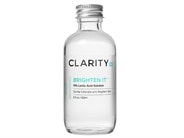 Reviews For
ClarityRx Brighten It 10% Lactic Acid Solution
$54.00
Favorite AHA
I used to use Glycolic Acid a couple times a week to help even out my skin tone. However, sometime it would be too irritating on my skin. I recently switched to this 10% Lactic acid solution, I used 3 times a week. I definitely see a difference. Less irritation than the glycolic acid (in fact, no irritation) and notice my skin is a bit more even toned. TammTamm
Verified Purchase
Gentle on skin!
This lactic acid works even on the most sensitive skin. I have mild rosacea and use it once a week and it makes my skin smooth and radiant. Great product for exfoliation without harsh ingredients. LovelySkin Customer
Verified Purchase
Must have!
This is amazing for getting rid of dark skin, acne scars, or dark spots! It can sting a little but it's worth it! AshleyP
Verified Purchase
Love it!
I've been looking for a product like this for ages. I have rosacea, dry skin and occasional breakouts. This is a gentle, but powerful treatment. It feels very warm and tingly for about 10 minutes and then it fades. I've used it three times so far and my skin already looks and feels better. I've had some very mild purging (nothing crazy) and my complexion looks healthier overall. You only use it twice a week so this bottle will last forever. JennyJen
Verified Purchase