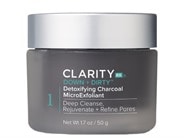 Reviews For
ClarityRx Down + Dirty Detoxifying Charcoal MicroExfoliant
Love this cleanser
This is my second purchase of this charcoal cleanser. It cleanses and moisturizes. Will purchase another when this one runs out. LovelySkin Customer
Verified Purchase
Detoxifying choral
Love this product. It has a refreshing senses and makes my skin feel clean and soft. So will definitely buy it again. Tampalo
Verified Purchase
Great everyday exfoliant
I received a sample from LovelySkin on a previous order. I tried the sample, worked great, so I ordered a full size of ClarityRx. Its an awesome daily use exfoliant, I have sensitive skin, works great. Excellent Product!
I ordered this for my husbands sensitive skin that has discoloration due to the sun as well as dry patches of skin. This product cleanses his face so well that he asked for me to order another container. The patchiness is evening out and his skin tone is looking smooth. The exoliant is not too harsh, he uses it every day and is not experiencing any redness or dryness. I'm so happy to find a product for his face that is not too harsh or too much work. I recommend it highly to anyone that needs to give a boost to their skin care to see improved skin tone, smaller pores and clear skin. Sharon1
Verified Purchase
A must-have
True to its claims, love using it for thorough cleansing after makeup removal. LovelySkin Customer
Verified Purchase
Excellent gentle exfoliant
Great for sensitive skin! I use this once to twice per week for extra exfoliation. LovelySkin Customer
Verified Purchase
Amazing!!!!
I quickly purchased this after using the free sample that was sent with another product! I am so glad that I tried it! The ClarityRx Down and Dirty is gentle, yet effective. It leaves your skin feeling so smooth and refreshed and ready for whatever your skincare regimen is. I love it and use it every evening. LovelySkin Customer
Verified Purchase
Fabulous Charcoal MicroExfoliant
I bought this after I received a sample with my order. It is an amazing product. I use maybe a 1/4 tsp or less. So the small jar does really go along way. I use it 2-3 times a week and it has really made my skin look so much better. Make up goes on better and even skin care products absorb so much faster. I really would recommend this product to anyone who has dull skin. Really like it!
Enjoy using this product to exfoliate my skin. My skin looking and feels great after using. Alittle goes along way too so it should last quite awhile. LovelySkin Customer
Verified Purchase
Excellent
Purchased this after trying a sample. I really like this exfoliator. It says safe to use daily, but I use it no more than 2x per week. Skin feels nice and smooth but not dry or tight. I like the texture and microexfoliant, it kind of reminds me of the Dermalogica exfoliating powder that you mix with water, which I also enjoy. The jar is pretty tiny, so that's why I removed a star. LovelySkin Customer
Verified Purchase
My New Fave Scrub!
I purchased this based on a sample I selected and am glad I did. The scrub is effective yet gentle on my skin and was easy to rinse off which isn't always the case with charcoal products. The best part is the cool, refreshing feeling on my face after patting my skin dry. By the next morning, a pimple that was forming on my forehead was smaller and less red and my skin still felt super clean. Love this product! Mullavey
Verified Purchase
Great stuff
Tried the sample and wow!! Did a great job and my face feel really super clean! LovelySkin Customer
Verified Purchase
Great exfoliating product
Cleans pores and leaves skin soft. Use very little and will last along time. Great exfoliator!
I love this scrub! Leaves my face super smooth and minty fresh! That's my favorite part! LovelySkin Customer
Verified Purchase
Refreshing
Love the feeling this mask leaves on my face. Wonderful
I love when LovelySkin sends me samples in the mail. I usually don't write reviews of products but I just used this charcoal MicroExfoliant on my skin and couldn't believe how soft and supple my skin was. I had to go online and write a review of it before I ordered it. Try it. You won't be disappointed. Fantastic!!
Very light on the face and is great for oily skin. After it makes me feel refreshed like I had just gone to get a facial.