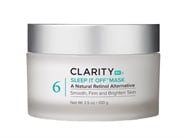 Reviews For
ClarityRx Sleep It Off Retinol Alternative Anti-Aging Mask
$125.00
Excellent!!!
I've used Clarity Rx Sleep it off for over 5 years to help slough off a discolored spot. It's worked perfectly. It's not completely gone but it's way lighter. My skin is smoother. I LOVE it! ClarityRX sleep off retinol alternative anti/aging mask
I really like this product. I am 55 and still have a lot of blocked pores and break outs!!!! This mask seemed to help. I use it for a couple of weeks (3) , then I stopped for two weeks and restarted and my skin is looking good right now!! Go To When Tired
An aesthetician, who was pregnant at the time, recommended this line for "clean" products but especially the Sleep It Off Mask. I bought the product and am happy that I did. It goes on the skin warm and leaves the skin moisturized and glowing by morning. At the spa, the price was $120 but the jar lasts 3-6 months. At LovelySkin.com, I waited for a sale and ordered my second jar. Thank you, LovleySkin, for carrying this line—can't beat your price. LovelySkin Customer
Verified Purchase