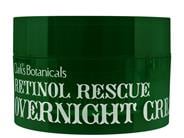 Reviews For
Clark's Botanicals Retinol Rescue Overnight Cream
Love it
I love this! Leaves my skin smooth and it also has lightened my age spots. It also last at very long time. About 7 months!!! LovelySkin Customer
Verified Purchase
Great for sensitive skin
This is the only retinol product I've used that actually didn't irritate my skin. I use it every night and it seems to be improving the texture and brightness. Very happy with purchase. LovelySkin Customer
Verified Purchase
Excellent Product
Clark's Botanicals Retinol Rescue Overnight Cream is an excellent product. I have used two containers so far and love it. It's very creamy to the touch and my skin is happy. Very, very good product, highly recommend. MVgirl66
Verified Purchase
Gentle overnight treatment with results
I don't use this every night, mainly because I'm not great at a night skincare routine. But when I do use it I always feel like my skin looks smoother, softer and less red in the morning. I find myself saying "I need to do this more often". LovelySkin Customer
Verified Purchase
Great Product
Gentle retinol treatment. I use it at night, as directed. Leaves my face feeling wonderful. Hydrated and brighter. Does not irritate my sensitive face. Retinol overnight cream
It is an ok night cream with retinol for me since the fragrance is a little bit too strong for me. I prefer SkinCeuticals or Obagi retinol. The good things this night cream does not break me out. Not perfect night cream
I like the smoother texture achieved with this retinol night cream, but for a night cream, I was seeking a richer formulation for overnight hydration. LovelySkin Customer
Verified Purchase
The Best For Sensitive Skin
I absolutely adore this cream! It goes on smoothly, a little goes a long way. I'm also using a CB eye cream & in conjunction. It's been a good 7 weeks, and I've had zero irritation for my very dry, sensitive, skin prone to dermatitis. My only caveat is the fragrance, but I still give it 5/5. strong scent
This face cream is moisturizing but not greasy. It leaves a close-to-matte finish on your face. It does not seem to have too much retinol in it, so it may be best for sensitive skin, but not enough retinol for others. Be aware this does have a fairly heavy scent, kind of floral-herbal. Clark's retinol
The retinal rescue overnight cream is phenomenal for my very sensitive skin. I have not been able to use other retinoids because they agitate my skin make it red and dry. This stuff is awesome! LovelySkin Customer
Verified Purchase
Good product
This product is super great, it hydrates my skin well during winter. LovelySkin Customer
Verified Purchase