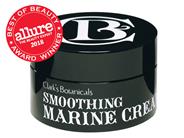 Reviews For
Clark's Botanicals Smoothing Marine Cream
Love it
I love this! Leaves my skin smooth and it also has lightened my age spots. It also last at very long time. About 7 months!!! LovelySkin Customer
Verified Purchase
Amazing
I love this cream. My face looks and feels so smooth. Will buy again. very hydrating
This is a rich cream with a lighter texture. It feels very hydrating, is a tiny bit oily and a bit sticky. It leaves a very slight sheen on your face. I felt a slight tingling sensation too, so perhaps, it's not the best for sensitive skin. There is a very faint scent I cannot describe, but it does not linger. Great Product
Rich, creamy moisturizing cream. Love the way it feels on my skin. Skin is smoother and more hydrated. Love it! Super Soft Skin
This will give you super soft skin. I feel my skin more hydrated, helps a little bit for light wrinkles. Skin Looks Great
This stuff deserves its cult status. I use it at night within a week my skin tone is even, my fine lines look better and my skin is softer. I have normal/dry skin(in my 40s) I was skeptical but it really does do what it says. Its expensive but a little goes a long way. I will repurchase when I run out. LovelySkin Customer
Verified Purchase
Pure luxury
This product feels rich and nourishing on the skin, but doesn't leave any greasy feel or after-sheen. It has a slightly herbal scent, which I enjoy, a bit different from many skin care products. This is the special thing I do for myself before going to bed at the end of a long day. Love it. LovelySkin Customer
Verified Purchase
My favorite moisturizer!!!
I have tried so many face creams. This hands down is my favorite. I can't believe the results I saw in just a week. My skin looks smoother. It has a tingle when you first apply that goes away within a minute. I definitely feel it helps my skin stay moisturized all day!! Worth the money a little product goes a long way. LovelySkin Customer
Verified Purchase
Best Face Cream EVER!!!!
I have used this product for about a year and absolutely love it!! I have fairly normal skin (maybe slightly dry) and this works wonderfully. It is a bit expensive so when I found the deal on LovelySkin I couldnt have been more excited. This is a must try because you will never want to go without it. LovelySkin Customer
Verified Purchase
Great night time moisturizer
I use this product at night and my face in the AM is baby soft. A little on the expensive side but LovelySkin has some great sales that makes the price reasonable. The scent is great. The only down side is that it does burn on occasion but that is usually after I use my weekly stronger AHA and retinol. I just started using them and my skin is getting used to them. The burning/stinging sensation only lasts for about 5 minutes and very minor when compared to the results. LovelySkin Customer
Verified Purchase
Really, Really Nice
I have been looking a long time for MY face cream. I just may have found it!! This cream glides on so easy, it feels cool, soft but not at all greasy. The softness stays all day and your face feels moisturized and fresh. LovelySkin Customer
Verified Purchase
Love this Cream
I love this cream. It is a bit pricey, but it smells heavenly and is one of the best moisturizers I ever used. I bought it for my husband to give me for Christmas. :) LovelySkin Customer
Verified Purchase
Excellent
Super moisturizing and smells clean and wonderful!!! Highly recommend, even with a steep price- it is worth it! LovelySkin Customer
Verified Purchase