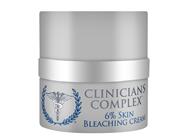 Write a Review - Receive 50 Rewards Points!
Tell us your thoughts about Clinicians Complex 6% Skin Bleaching Cream so we can help you find the right products. With your review, you'll also receive 50 Rewards Points. Please note that it may take up to 72 hours for a review to appear on site. All reviews are subject to moderator approval.
Write a Review
20 Results
Spots on legs
I'm still using the cream, but not certain if my spots are fading.
Not effective at all
Been using this cream twice daily for 6 weeks (and wear sunblock of 58-110 daily) without any fading of dark areas on my face. Also, after allowing it to dry and applying make-up it starts to peel off and it appears I have peeling skin or dandruff when it's really just the cream. I have used 4% bleaching pads from the dermatologist with amazing results. This makes me question if the advertised concentration of 6% is indeed correct. It was a waste of money and time and have now gone back to the hydroquinone pads from the dermatologist.
Promising!
Have just been using this product a week, but have noticed a slight fading in age spots. Will continue to use as directed as am confident this product will be effective ....it took years for these age spot to form, so dis not expect overnight success!
Love this product
I got a sample of this and tried in on some brwon spots on my hands. I was really surprised to see the spots fading within a week's time. I bought a jar of it and now use it on my hands and face daily, morning and night with the same results. I usually don't believe the claims on products that advertise erasing brown spots; thus, have not purchased any. That policy went out the door after trying Clinician's Complex. It is impressive.
Works wonders
I've used this in the past to fade dark spots from the sun. Unfortunatley those dark sun spots have reappeared and am going back to using this again. I know it works! Great formula, smells a little when you first put it on but then is disappears into skin.
Works wonders
I've used this in the past to fade dark spots from the sun. Unfortunatley those dark sun spots have reappeared and am going back to using this again. I know it works! Great formula, smells a little when you first put it on but then is disappears into skin.
High potency fading cream
I have a problem with hyper-pigmentation, mostly melasma but also as a response to acne and other injuries to the skin. I have used up to 4% hydroquinone which can show some lightening after many months of use, but this formulation has 6% hydroquinone as well as is mixed with some other herbal lighteners such as bearberry extract and licorice. I actually purchased it after trying the sample and having decent response. So far I am trying it as a spot treatment on some new discolorations and hope to see them fade quickly with this high potency lightener. But I should add that I am using it in conjunction with topical retinoids and this may make the difference in how well or how quickly it works.
works great!
already noticed it starting to fade away my acne marks. I like that it is odorless. Didn't cause any allergic reactions.
Miracle Product!
Two months ago, I suffered a second-degree burn that left a brown hyperpigmented mark on my cheek. I tried EVERYTHING to fade the dark spot--including a $200 prescription from my doctor--and nothing worked until I tried this product. Within 4 weeks of adding the cream to my skincare regimen (morning and night), my hyperpigmentation was gone for good! Clinicians Complex has truly brightened my skin and boosted my confidence, and I highly recommend this to anyone who is looking for a quality product with lasting results.
not sure
I got this as a free sample with an order and honestly, I cant tell that it has made a difference in some blemish scars that I have. Maybe I just quit using it too soon, but after a month, I hadnt seem any changes at all. Could just be my skin type. Seems like others are having more success with it.
Use this every day
If you use this every day -- morning and night - you will see your skin get more lustrous and clear every day. You have to be faithful and patient and use it with a good moisturizer.
Not sure yet!
Have only been using it at night for a couple of weeks. I use it on both sides of my neck under the jawline. I have a lot of brown pigmentation there. Haven't noticed any improvement yet, but may be too soon. It is very thick & is drying to the skin. Has a very slight odd odor, but I am very picky about smells. Will keep using it & post another review in the future.
great product
Starting to see improvements in just a couple of weeks! Would buy again
Works Great!
I noticed a big difference the first time I used this product. I have recommended this to a few of my clients. The acne marks are minimal and I have been able to start using mineral powder instead of my thick foundation with confidence. Thank you for this great product!
wow this works!
I have terrible brown spots all over my forehead and finally I found a cream that works- after 1 week I noticed a difference- week 2 faded even more. I hope after 4 weeks the spots are gone:-) Great product.
Great Product
I love that this product has a higher bleaching content than my prescription. So far this product is working great and deterring my brown spots on coming back after having laser surgery (ouch) on my face. It only takes a small amount to do the job.
Works Good
I have used this product for several months now. Although the dark spots on my hands have not disappeared, I do see them fading. The product is odorless and absorbs quickly.
Haven't seen any good change yet
I have used this product for about a month and have not seen any improvement but made my skin itchy and dry.
Skin Lightener
A very effective product that can obtained without a prescription. I like to use this creme with other products which enhances both products.
This is Amazing and Works Extremely Well!
I first go this product from a plastic surgeon's office, even the cosmetic dermatologist doesn't carry it, but I've been using it for years and can say that it is the BEST bleaching cream out there! All of the other bleaching products carry Much Smaller amounts of the Hydroquinone - like 2% versus the 6% in Physician's Complex! I have given this cream to my Mom, my sister and all my friends - they Rave about it too! Love this product and once you try it, you'll never use anything else! I use it on my arms, hands, chest, neck and face...I had dark brown patches and freckles, uneven skin...now my skin is clear with even toning and people are complementing me on my great skin now! Janine