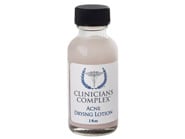 Reviews For
Clinicians Complex Acne Drying Lotion
Effective but not too drying
I purchased this as a spot treatment to use at night. It is very effective at helping to dry most spots....but not cystic spots unfortunately. Stays on really well overnight as well, considering my skin is very oily! Worth the price also. LovelySkin Customer
Verified Purchase
Clinicians Complex Acne Drying Lotion
This product works really well to dry out pimples, it's just a tad bit tricky to apply. I originally thought I should shake it up before application but, after reading the directions, I learned to leave it separated and use a q-tip to apply the pink solution at the bottom of the bottle. Interesting, but not a problem. The actual product works great! LovelySkin Customer
Verified Purchase
Best for white head pimples
There are less expensive formulations of this same kind of drying lotion. I wanted to see if this worked any better. I believe it lasts longer. Need to be careful of surrounding skin can cause irritation. It does dry out pimples. Especially pus filled zits. Jeannie
Verified Purchase
Really Makes A Difference
This is the best spot treatment I have ever used. It dries up acne quick, sometimes overnight. LovelySkin Customer
Verified Purchase
great for pimples
I recommend this product to combat, dry up and say goodbye to pimples. Just a dab with a cotton swab at night and most blemishes are on their way out. Pink color also makes using during the day possible–nice camouflage for under makeup! LovelySkin Customer
Verified Purchase
Perfect for cystic acne
I used a similar product years ago and I'm glad I found this! The high percentage of sulfur is one of the few acne treatment products that helps with cystic breakouts (at least for me). Sulfur is great for drying and healing the blemish and causing gentle shedding of old skin. I dab this on at night and wake up to revitalized skin. The healing process for my blemished skin decreases significantly. I hope this product never goes away. Very pleased
Dries up acne breakouts very quickly. Worth the money. LovelySkin Customer
Verified Purchase
Good Product!
Usually the acne products on the market that contain sulfur are 3%, but this one is 10%. It dried my acne faster; the pinkish color blend well to my Asian face color making brighter. I definitely will order again. LovelySkin Customer
Verified Purchase
GREAT!
This stuff is great! Doesn't burn or dry skin out, and blends in almost immediately to your skin so you don't run around town with pink spots on your face. In a humid climate, this really works with problem skin. LovelySkin Customer
Verified Purchase