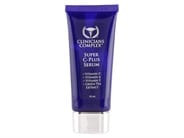 Reviews For
Clinicians Complex Super C-Plus Serum
ok
This is an okay mid priced vitamin C. I contacted the manufacturer and they say this new squeeze bottle packaging has the same 30% vitamin C as the old pump bottle which is awesome for the price. I'm not a fan of some of the other ingredients like the essential oils because they can be irritating (sometimes it stings upon application.) I really like that they use ascorbic acid and tetrahexyldecyl as their forms of Vit C. I also like that they increased the product amount when they switched packaging. A bottle would probably last 6 months. (I say probably because I alternate this with my SkinCeuticals phloretin cf.) Super C Plus Serum
The product is great, have used for years. Love the ease of applying to face, the extra ingredients, but I hate the pump on the bottle. I always have to open the bottle to get the product(which I should not do) because the pump fails. I am lucky if I get 1/2 way through the bottle. Great product, poor bottling! LovelySkin Customer
Verified Purchase
Fabulous product
I've tried several Vitamin C serums, and was looking for one with less of a sticky texture. I love that this goes on smoothly and smells fantastic. For the first few weeks I used it, it stung a little bit. As my skin has grown accustomed to it, that's gone away. This serum really works...after wearing it for only a few days my PIH faded noticeably. My skin is so bright now. I'm so glad to have found this serum. LovelySkin Customer
Verified Purchase
highly recommended
I have been using super C+ Serum for over 3 years and love it. I use it morning and night. The Serum tends to harden before bottle is used up is the only con I have. LovelySkin Customer
Verified Purchase
super c+ serum
I have been using this product for about three years. I use it every morning and every night. Thank you LovelySkin Customer
Verified Purchase