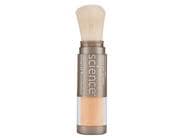 Reviews For
Colorescience Loose Mineral Foundation Brush SPF 20
Convenient
I don't need much coverage and like the convenience of this product. Other mineral foundations I've tried in the past made my skin itch but I've had no itching with this. It's easy to sweep on but I think it's important to use a light hand or it could get a little chalky. It's a easy way to add a little more sun protection. Nah
Unfortunately I don't like this one at all. It's non irritating so that's good and I don't have any problems with the brush- it's easy to apply. I just don't like the look of it on. It seems to enhance my pores and..... it's just not pretty on. Every time I use it I think my skin looks blah. This will not be a repurchase for me. I don't like wasting product so I'll try to use on the days I'm just home but this is definitely a no go for me. LovelySkin Customer
Verified Purchase
Great coverage and SPF protection
I've been using Colorescience for over 10 years. I recommend the product to all my clients that golf or run outdoors. This product offers great color coverage and SPF when you've been outdoors for hours sweating off your original coverage. Convenient
I had to take some time trying to apply this powder. The brush was a little hard in the beginning but it does soften some, and I just learned the right amount of pressure to give. Applying lightly in circular motion you get a light coverage. LovelySkin Customer
Verified Purchase
Perfect for travel!
This is a fantasy companion to my Colorescience pressed mineral foundation. I purchased this in anticipation of a trip to Puerto Vallarta. It will be perfect for touch ups in a hot, humid climate. Teresa1955
Verified Purchase
Highly Recommended
I have used Colorescience powder sunscreen for years and decided to give the loose mineral foundation a try. I love it for daily use when you are not going to be in too much sun (in those instances I use the SPF 50 instead) because it gives a little more coverage than the sunscreen. LovelySkin Customer
Verified Purchase
Good to wear
This powder foundation is an excellent sunscreen and adds a little coverage to sheer foundation. I do have some trouble getting the powder to flow from the brush. Will continue to use especially this summer on face and hands. LovelySkin Customer
Verified Purchase
Great Product
I have been using Colorscience Loose Mineral Foundation for about 3 weeks, and I love it! Very easy to use. Provides a nice light coverage and SPF 20. I carry it in my purse and re-apply throughout the day as needed. I have been using this product in combination with Colorscience Even-up with SPF 50 every morning, and I no longer need to use foundation. This provides great coverage with the added SPF to prevent aging! LovelySkin Customer
Verified Purchase
Natural and Pretty
Pretty makeup that looks natural too. I reapply on my nose later in day to refresh my appearance. LovelySkin Customer
Verified Purchase
Love, love, love
A great summer type foundation. Goes on easy, is lightweight and no notice that you have it on. LovelySkin Customer
Verified Purchase
Returned it
I didn't like anything about this product. The brush was a little coarse/harsh. It didn't feel like anything was being applied or was being swept away while trying to apply. I live at the beach and love mineral sunscreens, but this one didn't cut it, and I sent it back. LovelySkin Customer
Verified Purchase
So Natural
I have used this loose foundation for years. It is so natural even when re-applied throughout the day. Never looks caked on. It feels so nice and sheer and yet provides a lot of coverage. Highly recommend. LovelySkin Customer
Verified Purchase
Just ok
This is the first time I've tried the spf 20 from colorescience & will finish it, but I like the spf 50 better! LovelySkin Customer
Verified Purchase
Colorescience SPF powder
I really like the powder. It's very convenient to keep in my makeup bag in my purse. It's very sheer not too heavy. I would recommend. LovelySkin Customer
Verified Purchase
Light coverage
I use this foundation for daily light coverage and sun protection. It works well to cover my breakouts and even my skin tone. LovelySkin Customer
Verified Purchase
Look no further!
I have been wearing this foundation for over 7 years not and will never look back! This is the most AMAZING coverage with such a light feel to it. LovelySkin Customer
Verified Purchase
Always fabulous
This is my favorite powder. Great coverage and works great with mature skin! Colorescience Loose Mineral Foundation SPF 20 Brush
Absolutely love this powder. I have been using it for quite sometime over foundation or alone. Really like how it covers. Superb Powder Foundation
Ive been using this product for years and carry Colorescience brush foundation with me at all times, it is great over their bronzing skin primer, and great for touch-ups on the go (especially the nose area for me). I have a ruddy complexion (thanks to rosacea), and find the Girl from Ipanema color along with the face primer works best for me. Would highly recommend! Colorescience Mineral Foundation Brush, SPF 20
Great Product - Have used this system in the past, recommended by my dermatologist, but spent nearly 5 years trying to locate a supplier in my area! The brush system gives great coverage without being too heavy or uneven. The brush feels very soft on your skin during application. In addition the foundation is more finely "milled" in comparison to other mineral powders I have used. The SPF 20 gives long lasting sun protection to my fair skin I recommend Colorescience to all my friends! LOVE
I love the convenience of the mineral foundation and brush all in one tool. Its a nicer brush than I expected. Ive never liked mineral foundation until I tried this one from Colorscience. It looks very natural and doesnt settle in lines like a lot of foundation does. The coverage is light at first, but its easy to apply more to adjust the level of coverage you need. I usually end up applying a second or third layer, but Id much rather do that than use a mineral foundation that goes on too heavy and chalky. My complexion is darker than average with a yellow base so I chose The Girl from Ipanema and am very happy with the color. I also tried the California Girl in the pressed foundation and found it was a little too light. Great Foundation
Love the Colorscience Loose Mineral Foundation! Goes on evenly and not too heavy. The brush makes it so easy to apply. Love this Mineral Foundation
Ive tried many other mineral foundations but this is by far the best! It is easy and convenient to use and no mess! It also is the first time I was able to get a color that matched my skin perfectly. Super happy!! Fast, functional, and flawless!
I love Colorescience loose foundation in a brush!! I get ready at the gym most days and this is a staple in my makeup bag. Brush on and Im ready in minutes. I cant imagine using any other foundation. Way better than the compact version
I had tried the compact version and was not completly sold on it so decided to try this one. Absolutely loved it! I have used Bare Minerals for years but this is way better. Definetly a fan!