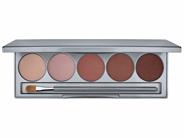 Reviews For
Colorescience Beauty on the Go Mineral Palette
$55.00
Nice Palette
I just received this palette and wore it to work today. Love the natural colors and the staying power. It looked fresh at the end of my 12 hour shift! love this product
I am so excited to have learned about Colorescience. I use this product for cover up touch ups, eyeshadow, liner, lip stick. It is amazing! LovelySkin Customer
Verified Purchase
Versatile!
When I first received this I was a bit skeptical that all the colors would work for me, but they do. The more I play around with it, the more impressed I am with the different looks I can get using this. No problems on my sensitive skin too. Definitely will be going on my next trip. LovelySkin Customer
Verified Purchase
I LOVE THIS
This palate is a you really need (after foundation) to get ready for your day. Colors are soft and natural, blend well and last. LovelySkin Customer
Verified Purchase
Great colors
This palette has the perfect colors to match anyones complexion. Great all-in-one compact for travel too. LovelySkin Customer
Verified Purchase
love this product
I only recently started wearing make up again. I found I am allergic to most everything so consigned myself to being one of those women who didnt wear it. My daughter is getting married and of course I want to look my best so I started searching for a makeup that doesnt upset my allergies. I have found it in colorscience, so far so good anyways. I love this product because it doesnt smudge easily. I cant seem to keep my hands off my face but my eyes and eyebrows look fantastic even at the end of the day. I watched a how to video online (not by colorscience) for making eyebrows look better and realized this stuff would do exactly what the model in the video did. Its fantastic! ChichiFroufrou
Verified Purchase
My Favorite Beauty Product!
This palette provides everything you need for eyes and cheeks to make your face glow! LovelySkin Customer
Verified Purchase
Big change in a small package!
I was looking for something easy to travel with. I got much more! I have been kinda stuck in my eye colors, over the years, so I thought I would try something different. I actually use all these colors on my eyes and as a blush and bronzer. I love it more, the moreI I experiment . Also it stays on all day and does not get in the creases and lines of my aging eyes! LovelySkin Customer
Verified Purchase