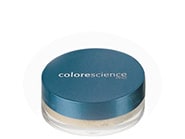 Reviews For
Colorescience Pro Sunforgettable Mineral Sunscreen 6g Jar SPF 30 - Matte
This stuff is great!
I carry this everywhere I go and prefer it over traditional SPF. Also, really recommend this site for the fast shipping and great prices. Medium - Perfectly Clear
It's nice that they finally aligned the new package colors with the old package colors. I have happy that the new products color matches well. I actually do not like the new package as much as the old. The holes are too small, so I have to close and tap the container up side down too many times in the morning to get product out. And if I pull the inner cover with the holes out it make the product get all over the counter. Sigh, I miss you Orb. Love loose powder
I use this to set my make up at home. Sheer coverage and love the SPF. great sunscreen
This is such and easy and convenient way to use sunscreen. it's really best for reapplication throughout the day, and you can get the one with the brush on it to take to the beach.