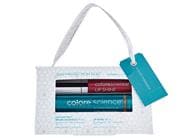 Reviews For
Colorescience Sun Protection Duo - Limited Edition
Great gift
Love Colorescience products, this item was a great idea for gifts. brightparadise
Verified Purchase
A perfect little kit
I've used the brush on SPF powder on bare skin and over foundation. I like it both ways and it offers enough protection on my fair skin while I hike or ride my bike. I haven't tried it at the beach yet but hope to soon. The lip gloss is a lovely color and doesn't travel into the few little vertical lines above my top lip. I already ordered a second kit to keep in my RV for my monthly camping weekend. Love the color
I love the color of this lip gloss & like how it adds SPF. Now the SPF powder...ehh. I'm not impressed with the sunscreen & I don't feel as if the product comes out or if it does I don't feel as if its adequate coverage. If this was just the lip gloss I would give it 5 stars. I just really wanted to like this brand for face sunscreen. Wonderful
These two products are amazing-the lip gloss is beautiful and the powder is awesome. They both have SPF-what more can you ask for?? This brand has some wonderful products, and they work beautifully. Offers a lightweight glow and excellent sun protection!
I bought this for traveling and have been pleased with the powder's coverage and sun protection. I have very fair, easily burned, skin and this worked great during a sweaty, 45 minute Florida jog. My only complaint is that it was very difficult to get the powder through the brush (I ended up taking off the end to have access to more powder). LovelySkin Customer
Verified Purchase