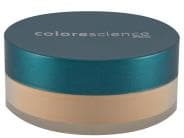 Reviews For
Colorescience Sunforgettable Mineral Powder Sunscreen SPF 50 - Jar
Easy and Convenience way to protect your skin
I have been using the Colorescience Sunforgettable Mineral Powder Sunscreen SPF 50 for a couple of years. It was introduced to me by my dermatologist. It's an easy and convenient way to protect your skin from the harmful UV rays. I put on liquid sunblock in the morning and apply this mineral sunblock right before I step out to grab lunch. I love it so much, I give them as gift to my mother and sisters. I also use it on my son who likes it better than the liquid sunblock. LovelySkin Customer
Verified Purchase
Good Product
I think this is a good product. It definitely gets the job done. I have a job where I am out and about in the sun for eight hours straight, its a physical job so there is a lot of sweating involved, and this stays put. I layer this over a cream sunscreen because I burn easy and do not have time to re apply sunscreens. If you need a thicker coverage and dont want to use an additional sunscreen, I suggest dipping your brush in it and patting it on your face and then smoothing it out rather than buffing it on. I do find that a thicker application makes it apparent that you are wearing make up though. With a thin application, you can still see your moles or freckles or whatever marking you have on your face. I like that because I dont want it to look like I have make up on. I do find that with heavier application this product makes your skin look dry. Maybe thats a good thing for people with oily skin? Mine is combination... Anyway, over all I think this is a good product, but its not as smooth as you would hope facial powder would be. LovelySkin Customer
Verified Purchase
A must have!
I have been using the Sunforgettable Mineral Sunscreen for several years now. Im using the Sunforgettable mineral powder sunscreen with the Sunforgettable Primer SPF 30. With these (2) favorites, I dont have any use for foundation anymore. Since Sunforgettable Sunscreen is in powder form, I am able to reapply throughout the day. It is also perfect for humid tropical weather - controls greasiness and does not make my skin sweat LovelySkin Customer
Verified Purchase
Passed my test
I received this product right before field work for the season started. I applied every 2 hours over an 8 hour shift under the sun working on a tractor. My face was not burned at all. I also applied it on my forearms, however I was burned on sections that brushed against my shirt from continuous turning and shifting. I like this product because when I sweat it doesnt run causing burning in my eyes as a lotion or creme SPF will do. I also felt a little cleaner because the dust didnt stick to my face as when I use a lotion or creme. LovelySkin Customer
Verified Purchase
Love this powder
Great powder that protects skin from the sun and goes on smooth. LovelySkin Customer
Verified Purchase