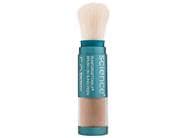 Reviews For
Colorescience Sunforgettable Total Protection Brush-On Shield SPF 50
$65.00
Very good
Convenient sun protection on the go. A daily must-have. Best sunscreen ever!!!!
My second time buying this fab sunscreen!!! I used it everyday as makeup. Colorescience Sunforfettable Total Brush-On Shield SPF 50
This is my favorite "go to" for making sure my face is covered completely after I use my sunscreen. I apply again in a while. It also gives me a bright glow. Watch the video first!
At first I thought my product was broken, then I watched the video. You have to tap it on a surface to get the product to come out. The color was a perfect match. I also got the foundation to go with it, as well as the eye cream. The eye cream is my absolute favorite. I choose this brand over the many other options because this company uses very safe ingredients. Will purchase again. LovelySkin Customer
Verified Purchase
Love this
I use halfway through the day to reapply my spf. So much more convenient then trying to smear cream spf over what is already on my face from the morning application. CourtneyBallet
Verified Purchase
Great over makeup and sunscreen
Effective sunscreen you can apply over your makeup. Protects you from sun damage and lasts for hours! LovelySkin Customer
Verified Purchase
5 STAR Colorscience Sunforgettable SPF 50
This is a GREAT sunscreen to use alone or with another product for touch up throughout the day! If I am in full sun I use EltaMD tinted, let dry and then powder with Sunforgettable, It takes away any shine and keeps me protected all day long. The easy application powder with brush fits in a purse, car, and great for travel. The powder takes away shine, and aIso covers pores. During winter, when the sun index isn't as strong, I brush it on alone. This product is a staple in my daily use all year long! I love it! LovelySkin Customer
Verified Purchase
Must Have Item
Highly recommended. A great combination of excellent and convenient sun protection. Save me lots of time to add extra powder layer of sun protection without using fluid or cream sunscreen and redo makeup. Make sure you tap few times before opening to get adequate amount of powder and you are set for good coverage and beautiful finish. LovelySkin Customer
Verified Purchase
Good overall
Does the job for applying sunscreen over makeup, but sometimes doesn't come out evenly and you end up with spots of product in certain areas. mckenzierae
Verified Purchase
Convenient on the go
The product works well, and the color blends nicely. Good to have on the go for sunscreen reapplication. It's subtle, which I like. A dusting of sunscreen rather than a heavy make-up type powder. It's a little hard to get the powder going on the brush -- I like the convenience of the combo brush and product, but it takes a little patience. Overall, definitely recommend for sun protection. Still the gold standard
I've been using this product for more than 15 years and have yet to find anything better. It's great for the face but also works wonders for protecting the chest, hands, and neck. Surprised That I Don't Love it
This is an interesting product. It has so many 5 star reviews that I thought I "had" to try it as the perfect way to reapply sunscreen over makeup. However, it is difficult to use. I follow the directions but It's hard for me to tell if the powder is coming out of the brush. (I "flick" the brush to see if there is powder - it takes several tries of tapping the product firmly upside-down with the cap in place before I can see the product, barely there, coming from the brush.) Also, it smells just awful! Very chemical-like smell. I am disappointed with my purchase and that it cost quite a bit of money. I would NOT repurchase but look for a different brand to try next time. LoveLovelySkin
Verified Purchase
Write a Review for Colorescience Sunforgettable Total Protection Brush-On Shield SPF 50
Very good product. Like how it looks on my skin. LovelySkin Customer
Verified Purchase
Love this SPF!
Such a great product. My only issue is that I ordered the Tan shade (I'm not super tan) and its lighter than I expected - was hoping for an added bronzing effect, so ordering the Deep shade next time :) HeatherKK
Verified Purchase
Sunforgettable brush-on SPF-50
I cannot tell if any product is on the brush. While I did not expect coverage, I did expect a hint of color. My bad. Will not buy this product again. LovelySkin Customer
Verified Purchase
Easy to apply
I received this product as a sample and was pleasantly surprised by how much I liked using the brush on sunscreen. The great thing about this sunscreen is that it doesn't run into your eyes when you sweat and sting like lotion sunscreens do. I was so happy with the sample that I keep that in my purse and bought a full size one to apply in the morning. LovelySkin Customer
Verified Purchase
The best
At first it was difficult to use, but once you get use to it it's the best thing, specially if you don't like creams as a SPF. Soft to your face, doesn't cause break out and last all day LovelySkin Customer
Verified Purchase
Colorscience Sunforgettable Total Protection Brush -On Shield SPF 50
I love the powder and it works well but the container it's in doesn't let the powder come out . Lorrilynn
Verified Purchase
Great protection and coverage
I like this powder as an actual makeup foundation and the fact that it's an spf 50 and water resistant makes it incredible! LovelySkin Customer
Verified Purchase
Love it
I love this, it solves the problem of reapplying sunscreen throughout the day. It's light/sheer and doesn't leave a chalky look. I don't have any problems with the brush applicator, it works just fine. I will buy this again. LovelySkin Customer
Verified Purchase
Great SPF BRONZER
Great product SPF 50 and comes in different shades, very light going on. Small enough to go into your purse and carry everywhere. Will order again. LovelySkin Customer
Verified Purchase
So easy and effective
I love this product! It is simple to apply and easy to carry in my purse or swim tote to reapply as frequently as I need. No oily mess - no spray going to waste in the air. I have been using other Colorescience Sunforgettable products and all have been super performers. melemond
Verified Purchase
It does the job!
I run & cycle & hike in Colorado, which tends to result in "leathered" faces. I'm in my late 50's and women often ask how I've avoided wrinkles. This is it. First apply Elta MD 40 SPF liquid sunscreen, and then brush on the Sunforgettable 50 SPF powder. The applicator gets 1 star - it's lousy. I unscrew the bottom of the container and tap out a little into a dish, and then I apply with a brush. Despite the hassle, I still give this product 5 stars. For five years, this combination has kept my skin healthy & wrinkle free. Best Coverage and Sun protection
Really wanted to try this and so glad I did! It's the best, goes on well and covers my face well, really protects your face when you are in the sun. GREAT! Love it! LovelySkin Customer
Verified Purchase
Great on the Go
This product is easy to use and so great for travel or throwing in my purse for touch ups later in day. It is very light and does not leave a heavy powder coating on skin. It's also wonderful to use if you have any laser treatments. LovelySkin Customer
Verified Purchase