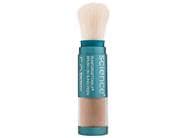 Reviews For
Colorescience Sunforgettable Total Protection Brush-On Shield SPF 50
$65.00
90 Results
Still the gold standard
I've been using this product for more than 15 years and have yet to find anything better. It's great for the face but also works wonders for protecting the chest, hands, and neck. Surprised That I Don't Love it
This is an interesting product. It has so many 5 star reviews that I thought I "had" to try it as the perfect way to reapply sunscreen over makeup. However, it is difficult to use. I follow the directions but It's hard for me to tell if the powder is coming out of the brush. (I "flick" the brush to see if there is powder - it takes several tries of tapping the product firmly upside-down with the cap in place before I can see the product, barely there, coming from the brush.) Also, it smells just awful! Very chemical-like smell. I am disappointed with my purchase and that it cost quite a bit of money. I would NOT repurchase but look for a different brand to try next time. LoveLovelySkin
Verified Purchase
Write a Review for Colorescience Sunforgettable Total Protection Brush-On Shield SPF 50
Very good product. Like how it looks on my skin. LovelySkin Customer
Verified Purchase
Love this SPF!
Such a great product. My only issue is that I ordered the Tan shade (I'm not super tan) and its lighter than I expected - was hoping for an added bronzing effect, so ordering the Deep shade next time :) HeatherKK
Verified Purchase
Sunforgettable brush-on SPF-50
I cannot tell if any product is on the brush. While I did not expect coverage, I did expect a hint of color. My bad. Will not buy this product again. LovelySkin Customer
Verified Purchase
Easy to apply
I received this product as a sample and was pleasantly surprised by how much I liked using the brush on sunscreen. The great thing about this sunscreen is that it doesn't run into your eyes when you sweat and sting like lotion sunscreens do. I was so happy with the sample that I keep that in my purse and bought a full size one to apply in the morning. LovelySkin Customer
Verified Purchase
The best
At first it was difficult to use, but once you get use to it it's the best thing, specially if you don't like creams as a SPF. Soft to your face, doesn't cause break out and last all day LovelySkin Customer
Verified Purchase
Colorscience Sunforgettable Total Protection Brush -On Shield SPF 50
I love the powder and it works well but the container it's in doesn't let the powder come out . Lorrilynn
Verified Purchase
Great protection and coverage
I like this powder as an actual makeup foundation and the fact that it's an spf 50 and water resistant makes it incredible! LovelySkin Customer
Verified Purchase
Love it
I love this, it solves the problem of reapplying sunscreen throughout the day. It's light/sheer and doesn't leave a chalky look. I don't have any problems with the brush applicator, it works just fine. I will buy this again. LovelySkin Customer
Verified Purchase
Great SPF BRONZER
Great product SPF 50 and comes in different shades, very light going on. Small enough to go into your purse and carry everywhere. Will order again. LovelySkin Customer
Verified Purchase
So easy and effective
I love this product! It is simple to apply and easy to carry in my purse or swim tote to reapply as frequently as I need. No oily mess - no spray going to waste in the air. I have been using other Colorescience Sunforgettable products and all have been super performers. melemond
Verified Purchase
It does the job!
I run & cycle & hike in Colorado, which tends to result in "leathered" faces. I'm in my late 50's and women often ask how I've avoided wrinkles. This is it. First apply Elta MD 40 SPF liquid sunscreen, and then brush on the Sunforgettable 50 SPF powder. The applicator gets 1 star - it's lousy. I unscrew the bottom of the container and tap out a little into a dish, and then I apply with a brush. Despite the hassle, I still give this product 5 stars. For five years, this combination has kept my skin healthy & wrinkle free. Best Coverage and Sun protection
Really wanted to try this and so glad I did! It's the best, goes on well and covers my face well, really protects your face when you are in the sun. GREAT! Love it! LovelySkin Customer
Verified Purchase
Great on the Go
This product is easy to use and so great for travel or throwing in my purse for touch ups later in day. It is very light and does not leave a heavy powder coating on skin. It's also wonderful to use if you have any laser treatments. LovelySkin Customer
Verified Purchase
Excellent service
The article arrived very quickly. I'm satisfied. Happy customer
I just want to say that this product met my expectations. I got the color in tan. I have fair skin and light brown hair and it just gives me color, protection, and subtle overall coverage. The tan is perfect for someone that wants a natural slight color to their face. I can even skip blush. I do put just a bit of blush over it sometimes. Great product. I would've given it five stars but you kind of have to work at getting the product flowing every time you use it. That has been my experience. Highly recommended!
I've always had problems looking for a beauty product that would make me look fabulous but at the same time will take care of my skin, until I came across the Colorescience Sunforgettable Total Protection. I highly recommend this product! Great product
This sunscreen looks great over my Colorescience Bronzing Perfector, really makes my skin so smooth, plus the SPF 50 is the reason I purchased this. My only complaint is the brush. I wish this came as a compact and separate brush as I seem to waste more product just trying to get it to come olut of the brush. Desireered
Verified Purchase
Added Bonus
I use this Colorscience Sunforgettable Brush-on Powder SPF 50 as a supplement to the Colorscience Sunforgettable SPF liquid that I put on every morning. I have one in my purse so that I can use it on the go before I get out of my car in the bright sunlight and I have one on my bureau to use during the day to give me more coverage. These are really nifty products. I do not use powdered products but, this brush on sun coverage disappears when you put it on. The only way you know it was there is when you cleanse at night!!! LovelySkin Customer
Verified Purchase
LOVE, LOVE, LOVE!
I really appreciate the convenience of being able to reapply after "sightseeing" when we travel. This goes on nicely and gives a finished but without chalky look. I was especially excited to get it during a sale. CookieinCA
Verified Purchase
When you're out and about for hours and you need to reapply sunscreen...
I've been using Colorscience for over 10 years. This product is such a great way to reapply sun protection when you're outside for many hours. Could be better
I can see the powder is loading into the brush after tapping and flicking according to the Colorescience instructional video, but I wish this product provided more of a buildable coverage like some other powder mineral foundations. I'm not able to see much (if any) coverage on my face, so I keep applying layers with the hope it's providing the SPF listed. Continuing to use my facial moisturizer with SPF as insurance. After reading all the positive reviews, I was really looking forward to this product but doubt I will purchase again. Bummer. LovelySkin Customer
Verified Purchase
Brush and Powder delivery disappointing
Great ingredients; was looking forward to this product I couldn't get the powder brush down even following directions. The coverage just wasn't happening. The brush seems too weak to me compared to similar products. Wah wah. Princess66
Verified Purchase
Frustrated & Disappointed!!!
I really liked the concept of this product—a powder sunblock in a self contained package. The only problem is I layer other sunblock on my face (hyper sensitive skin) first so there is no way to keep the brush part of the applicator dry. Now, the product is hard to get out of the tube and onto the brush. I don't think I can clean the brush without ruining the powder. I'm considering busting it open and putting the powder into a mother other container so I can keep using it. I should note that upon first use I liked the way it looked on my skin and the coverage was even. LovelySkin Customer
Verified Purchase