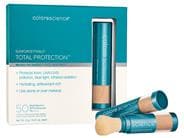 Reviews For
Colorescience Sunforgettable Total Protection Brush-On Shield SPF 50 Multipack
$130.00
24 Results
My staple sunscreen
I have been using this for fifteen years. It's the only sunscreen I use on my face. I use it every time I leave the house. It has helped maintain my genetically nice, but sensitive, skin. Also used it on my daughter when she was a toddler, so easy to apply and no fussing from her. She continues to use it as a teenager. Love that it has all natural ingredients. Physical sunscreens have longer efficacy than chemical sunscreens and no irritation. Highly recommend! LovelySkin Customer
Verified Purchase
Love It
This is a great product that is easy to use. I like it over cream sunscreens because it doesn't have to be rubbed in. It doesn't leave lines in the creases of my skin. It seems to protect very well from sun damage. It's easy to carry along with you and use anytime. MCDancer
Verified Purchase
Amazing!!!
Very effective and easy to apply... keeps you protected ! Great product. Great price!
I use this powder several times a day, so the multi-pack saved me a lot of money. I open the end and use it as a loose powder when I first apply my makeup, then reapply during the day with their brush. I only wish they'd offer a loose powder. I always get great savings with LovelySkin! Suepac57
Verified Purchase
MUST in your purse!!!
Favorite thing in my purse! Goes great over my makeup . Super light, no heavy coat Highly recommended! LovelySkin Customer
Verified Purchase
amazing product
I was introduced to this product by my dermatologist. The moment I tried it on, I just fell in love with it. It is so flattering, smooth and gives a light nice color with matte finish on your face. Amazing protection against UVA/UVB that gives you a beautiful look. its slightly radiant finish
I would prefer if it would be matte finish but it works for me too. LovelySkin Customer
Verified Purchase
Colorescience Brush-On Shield Powder
This powder is so easy to apply under my sunscreen and makeup and throughout the day. My 7 year old also uses it daily for quick application. For longer days outdoors, I will apply regular lotion sunscreen on her but for short outings, this is so easy!! LovelySkin Customer
Verified Purchase
Good, but hard to use
I like this as a setting powder and a sunscreen. It's hard to get out, so I just open the back and then sprinkle some powder on the back of my hand, close the cap, and then use. I'll probably end up ordering an empty powder container and just pour the whole thing into there and use a powder brush. colorescience blush
Convenience and feel very good when applied after make up or moisturizer Yelloworchid
Verified Purchase
Mixed Feelings
I like the concept of these and the amount of active ingredients. But, I find the dispenser to be a significant barrier to use. I wish you could just buy a washable, refillable brush and the powder separately. The was this sets up generates tons of extra waste and doesn't let you choose a brush type that would be a lot more effective. I'm not sure if I'll get these again or go with a different powder option for a mid-day touch up. BirdieKitKat
Verified Purchase
Great Coverage
This is my daily sunscreen and I love the coverage as it evens out my skin tone. I also love the ease of reapplies throughout the day as it's perfect in your purse. AubreyRed
Verified Purchase
Multi-pack is great, but I still wish they made refills without the brush
I like this SPF 50 powder because it offers high sun protection with a sheer tint (my understanding is that it is sheerer than the SPF 30 but higher SPF, so it's win-win for my purposes). I'd advise getting the multi-pack only if you plan to use it regularly, just because they do come with expiration dates. I use one for portability. One stays in reserve. The third one stays on my vanity table, where I pour the powder into an empty loose powder container. I dip my own powder brushes into that, instead of using the attached brush, and I apply it in place of regular loose powder. Because I use it this way, I like the economy of buying the multi-pack. However, I wish Colorescience would make economically-priced and environmentally conscious containers of the powder by itself, without the brush dispenser. It is wasteful excess packaging for me to have to buy brush dispensers that I will not use. The multi-packs end up less expensive than buying single units, it still feels wasteful. LovelySkin Customer
Verified Purchase
Easiest sunscreen to use!
I love colorscience because it is so easy to use throughout the day. I enjoyed getting the 3 pack because I can share with my husband. Great for men too. Especially when out golfing or hiking it's just a quick brush and you are protected. LovelySkin Customer
Verified Purchase
The best
I've used this product for years. I always have one in my purse, one in my makeup bag and one at my work desk. Great to swipe it on easily. I love it. Happychik
Verified Purchase
Nice
Can't live without this in summer ! SummerHot
Verified Purchase
Love!
I no longer have the dilemma of not being able to reapply my sunscreen because I have a face full of makeup. I love the thoughtfulness of this product, and the science behind it! Great product so stock up!
This is a great buy to stock up on Colorescience Sunforgettable Total Protection Brush-On Shield SPF 50. I use it everyday over a lotion with sunblock for an added layer of protection from the sun. I sometimes put on Colorescience Sunforgettable Total Protection Face Shield SPF 50 first then add the Brush-On Shield SPF 50, then the rest of my makeup and set for the day! It can replace whatever face powder you currently use plus you have a SPF 50 now! Love it! LovelySkin Customer
Verified Purchase
Lovely
Nice coverage and easy to apply. LovelySkin Customer
Verified Purchase
GREAT PRODUCT
Love this product. I first put on the EltaMD sunscreen for extra protection. The brush is super soft and flexible, allowing for a gentle application. What I really like is that you can use it to touch up your SPF during the day. LovelySkin Customer
Verified Purchase
Colorescience Sunforgettable Total Protection Brush-On Shield SPF 50 Multipack
Love these brushes! My absolute essential in terms of sun protection and makeup touch-ups, the finish and weightless feel are great. Multipacks are saving some money. LovelySkin Customer
Verified Purchase
Perfect for on the go
I bought medium shade and it matches all skin tones. BettyLe
Verified Purchase
Great product
I've been using the Colorscience Sunforgettable brush on shield SPF 50 for awhile now and depend on it for SPF coverage throughout the day. The multi-pack is great because I stash them in different locations (house, car, office, etc), so I don't have to actually carry it around with me. LovelySkin Customer
Verified Purchase
The Best I have Tried
I have melasma and have to be diligent about zinc based sunscreen. I apply this after my regular sunscreen as a setting powder. And for touch-ups throughout the day. It is the easiest way to reapply for face and neck.