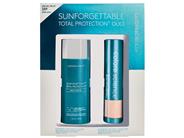 Reviews For
Colorescience Sunforgettable Total Protection Duo SPF 50
10 Results
Environmental Protection with a Hint of Color
I've been rocking this duo all summer because it gives me the sunscreen protection of a lotion AND a brush-on mattifying sun protection powder. I have a real issue with hyperpigmentation, so the self-dispensing mineral-powder brush applicator allows me to do quick touch-ups. I love the hydrating feel of this lotion while being completely oil, paraben and fragrance-free. MamasHighStrung
Verified Purchase
Perfect combo
This is a great set. The liquid sunblock has just a bit of tint. It looks light when it comes out of the bottle, but blends into the skin really well. Then the powder provides enough coverage ands manage shine so no foundation is needed. I use this every day before going on my morning walk. Chickster
Verified Purchase
Excellent!
The sunscreen is very good and covers if you have some blemishes and the powder is perfect to wear over your makeup and touch up every 2 hours. Charlene
Verified Purchase
Sunforgettable Total protection duo spf 50
The powder doesn't get into the brush as nicely as it should. It's a real struggle to use so I tend to skip this step or use another product instead. Perhaps it is a defective tube? LovelySkin Customer
Verified Purchase
Awesome Sun Protection
I really enjoyed the sun protection provided by the liquid coverage. I have tried numerous sun products, and this is going to be one of my most favorites. It has a slight tint and goes on beautifully. Wear it alone or under makeup, and it's near perfect. However, the powder I really didn't like care for. It didn't seem to come out of the brush very well and was difficult to tell if I was even applying it. I would reorder the liquid, but not the powder. LovelySkin Customer
Verified Purchase
Excellent value, difficult to use
I enjoy Colorescience products. However, the brush-on SPF mineral powder is very, very difficult to use. Hardly any product gets into the brush. I have a full size also, and it has the same problem. I do use it but get aggravated trying to get the product to release into the brush head. It is a great idea but needs a little tweaking. LovelySkin Customer
Verified Purchase
Favorite on the go product
When it comes to keeping sun protection consistent through a busy day, this product is key to my success. Living in CA and having a busy life, in and out of the office, running errands and having three active kids, I use this throughout the later part of the day to keep me protected after my morning skin protection is run out. Colorscience Sunforgettable, love it
Love this product. It's very lightweight. I also like the product because it's tinted, and can apply it over makeup. LovelySkin Customer
Verified Purchase
A mineral sunscreen that isn't drying
This lotion looks and feels great on my skin. It melts in for no cakey look and moisturizes my super dry skin, enough that I can touch up with the powder without feeling dried out. Good job, Colorscience! LovelySkin Customer
Verified Purchase
top notch
I love all of Colorscience. Effective. The powder is somewhat heavy, though. LovelySkin Customer
Verified Purchase