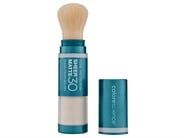 Reviews For
Colorescience® Sunforgettable® Total Protection™ Sheer Matte Sunscreen Brush SPF 30
$45.00
4 Results
Colorescience Sunforgettable Total Protection Sheer Matte Sunscreen Brush SPF 30
I liked this powder for SPF factor, mattifying but not for long... after 1 hour shiny again. Wish it was SPF 50. LovelySkin Customer
Verified Purchase
OK
Once you can get the brush to start working, it's pretty good. Natural matte finish which lasts for over three hours. Cinnabean
Verified Purchase
I love it!
I like this product very much: It's easy to use and portable enough to carry it in my purse. I like it also because it is translucent and makes my skin looks very natural. It doesn't irritate my sensitive skin and seems working very well to protect my skin from the sun. LovelySkin Customer
Verified Purchase
Messy and white
I ordered this product to keep in my purse so I could reapply sunscreen during the day but it is very messy - powder goes everywhere and leaves a white cast on my skin. LovelySkin Customer
Verified Purchase