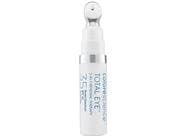 Reviews For
Colorescience Total Eye 3-in-1 Renewal Therapy SPF 35
$69.00
Promising but not sure yet...
I like the way the product goes on using the applicator but I think I may feel as others do - that too much comes out per pump and ends up as waste. We'll see. That said, my initial reaction is that I like the product and feel that it helps with my dark circles. So far so good
I've just started using this product and it's already a favorite. It definitely brightens and hydrates the under eye area. It does not accentuate the fine lines like most concealers do. It's not chalky and does a good job covering my dark circles. It is recommended to use on eyelids an up to the brows which is new to me but so far I like it. The SPF is also appreciated. EXCELLENT PRODUCT
Love this product. It provides great coverage while providing your skin with active ingredients. Would definitely buy again. LovelySkin Customer
Verified Purchase
Love
My eyes get really dry in the winter and this has helped brighten them up and keep them moisturized. I love that it has spf in it too. I pair it with the color-science tinted spf and they go so well together. I am really happy with the color science products! laceemb
Verified Purchase
Love this!
I use this both morning and night. It's a great under eye concealer for the day but I also love the benefits it offers as a eye cream. LovelySkin Customer
Verified Purchase
Nice Product!
Works as a nice concealer with good SPF for around the sensitive eye area. I am older and tend to have dry skin, and, unlike a few other reviewers with similar characteristics, I do NOT notice the product settling into fine lines. I think it works fine and will continue to use. LovelySkin Customer
Verified Purchase
Amazing!
It is a great product that hydrates your eye area while camouflaging dark circles. The color matches perfectly with my skin tone and it does not crack in the skin. It stays very smooth. Charlene
Verified Purchase
Colorescience Total Eye 3-in-1 Renewal Therapy SPF 35
A good, moisturizing under eye cover up. Positives: It doesn't settle into fine under eye lines but creates a blurred, smoothing effect. It would work better with a primer on top to prevent fading over the course of the day. SantaCruzLady
Verified Purchase
Total Eye
I love this because it has SPF and I really like the new shades. Fair works great for me and the previous color did NOT. SoCalMom
Verified Purchase
Fabulous Coverage
This is so lightweight, easily blends in, and offers the best under eye coverage I have ever found. Love it! LovelySkin Customer
Verified Purchase
Great!
This is the best under eye concealer I've ever used. It really brightens and hides dark circles and fills in fine lines. Will absolutely continue to use. It can be drying so use sparingly. A good product
It's good as it provides spf 35 and works as a concealer too. However a bit thick for around the eyes which requires effort to rub in. Works well
This is a great brightening product as well as good SPF coverage and is moisturizing. I would recommend for anyone to use instead of concealer if they are looking for extra coverage for their eyes. LovelySkin Customer
Verified Purchase
Terrific!
I have tried so many eye products with SPF and they always made my eyes water or burn. Well, not this one!! And, you only need a TINY bit, rub it between your ring fingers and you'll have plenty to go under your eyes and on your eyelids. It gives a highlight at first and the. The pigment softens to a light highlight. I spend a lot of time outside all year round and I'm very sensitive. This stuff is so great I don't use any other concealer under my eyes. I'm 60 and my eyes look great!! Highly recommend it. Embraceyourage
Verified Purchase
Not all that
I've tried as a corrector prior to concealer and it doesn't correct darkness or blue veins. I like the skincare and SPF benefits. It's similar to a tinted moisturizer for under the eyes. I'm fair and the original tint is a good match. Good for the summer!
I really liked this concealer during the summer months when my skin was a little more hydrated. During the winter I have opted for something a little less thick as I noticed this tended to settle in my creases and dry me out a bit more. LovelySkin Customer
Verified Purchase
Great idea - not for dry climate dwellers with dry undereye skin/texture
Loved the idea of this. Color (med) on my neutral medium skin blends in (and I doubted that it would). But in my dry environment, with dry-ish undereye skin and a few lines? Not great. This product dries my skin and emphasizes undereye lines (not crows' feet, but that skin is thicker). I have tried intensive moisturizing beneath eyes without success. To finish this product, I now use it on brow bone area, corners of mouth, and nasolabial folds atop my mineral sunscreen (gently rub in). CorinneS
Verified Purchase
Great Product!
I bought this as it was recommended by a nurse at the medical spa that I go to. I have a medium complexion and the medium shade is perfect. I've been trying to use less makeup at work and outside of work as well and this works perfectly by itself as an under eye concealer. Colorescience
This is the best under eye cover and concealer I've ever used. Not only does it nourish the under eye area but also hides dark circles and wrinkles better than any product I've used. Cosmo03
Verified Purchase
A-Must have!!
I absolutely love this eye product! I've seen continued results over time as well. Great product
I haven't had much of a chance to use this yet. Will use it a lot this summer but seems very soft and the color is great. LovelySkin Customer
Verified Purchase
Daily go to
I use this product daily and love it. It is a great eye brightener, doesn't settle in fine lines, goes on smoothly over moisturizer and has SPF. So glad I found this product. Amazing
Love this product! Hides my under eye circles without feeling heavy. With Covid happening and me having to wear a mask at work this helps me diminish any discoloration I have without making it look too made up. Highly recommend! Lakatalina131
Verified Purchase
Love this and the applicator
I love this for coverage and for the SPF in the summer! The applicator is cool and soothing as well. taryneileen
Verified Purchase
Wonderful Concealer
I love this concealer! It goes on smoothly, is a perfect match to my skin type and has SPF. LovelySkin Customer
Verified Purchase