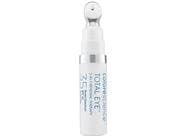 Reviews For
Colorescience Total Eye 3-in-1 Renewal Therapy SPF 35
$69.00
321 Results
I didn't really like it
I saw so many reviews and was really excited to try this but I really didn't like it at all. So disappointed. LovelySkin Customer
Verified Purchase
Not A Fan
This formula sinks into my fine lines and actually accentuates them. It is too pink and pigmented and not good for aging skin. Maybe younger skin just focused on dark circles would be better An absolute must-have
Not only does this offer sunscreen protection for your under eyes (and lids!), it also doubles as a color corrector - or a concealer for those no-makeup days. I have dry skin, so I like to apply a light under eye moisturizer before applying this because it's not moisturizing enough for me on its own. LovelySkin Customer
Verified Purchase
Not just an undereye corrector
I love this product! It's a great color corrector, with the added benefit of SPF protection. Win-win! LovelySkin Customer
Verified Purchase
Good Stuff
I have been using this product for 6 months and just reordered another one. They also recently added more shades. I love the soothing applicator, the color covers my dark circles and moisturizes. I found most eye creams do not have sunscreen in as this does for the delicate eye area. Highly recommend! LovelySkin Customer
Verified Purchase
This would be my 'deserted' island product!
On my second tube of this. Received as a sample once and have been hooked ever since. Really does make a difference in fading dark circles. Love that it has an SPF, wear it when outdoors. With this and a sunscreen for face, I never burn and feel protected from the sun. It blends in seamlessly and has good staying power, too. Don't like the price, but love the product, it works, so worth it. Just ordered my second bottle
As a woman over 40, I have found that my eyelids without makeup show veins vs. flesh tone skin. This Colorscience Total Eye 3-in-1 works as a coverup to make those veins on my lids and dark circles under my eyes go away. The SPF is good as I walk daily and do a lot of gardening as well. I can put this on with a quick swipe of mascara and grab my mask and head to the store and feel a little more put together, even if I am still in workout clothes. LovelySkin Customer
Verified Purchase
Love this!
Finally, a under eye moisturizer that also brightens the under eye area and has SPF! I won't be without it! EmmGeeGee
Verified Purchase
Wow
Really makes a difference in my appearance. Brightens and lifts eye area. I'm very pleased. I do, however, find it tricky to dispense the right amount of product but I'll keep practicing. Excellent
Love this eye cream color with spf. I only applied a little on my outer eyes as a coverage with no makeup. Excellent color. LovelySkin Customer
Verified Purchase
Excellent
I have suffered from dark circles my entire life. This is a game changer. Rsmith0711
Verified Purchase
Like but don't love
I am really torn with this product. Pros... goes on smooth, a little goes a long way, decent coverage for dark circles, hydrating, contains a sunscreen Cons...slight burning sensation at times once applied, not much of a brightening effect, doesn't last all day I like, not love this product. I will finish my bottle but not sure I will purchase again. LovelySkin Customer
Verified Purchase
It doesn't sting my eyes!!!
I have extremely sensitive eyes and everything makes them sting. Total eye 3-in-1 really is flawless for many reasons. I'm 69 and have lines around my eyes. This is the only product that does NOT fill into the creases, actually moisturizes leaving a hydrated glow and is a SPF!!! What more could one want? I love it, recommend it & my daughter bought it, too. LovelySkin Customer
Verified Purchase
Doesn't sit in fine lines
I hesitated to try this after not being completely satisfied with some other ColorScience products, but a free sample came in my last LovelySkin order and I fell in LOVE with this concealer. I have several drug and department store concealers but was continually disappointed by the end of the day when they'd settled into the fine lines and round my eyes and didn't conceal my dark circles. ColorScience 3-in-1 is worth every dime. I know the cost is a little more than I would normally pay for a concealer but a tiny dab is all you need and the coverage is flawless and buildable. It is my everyday go to product along with my tinted moisturizer and mascara. I would avoid using the applicator tip to apply it though and just dab it on with a brush on the pad of your finger. The tip is cooling but kind of large and uneasy to use. No dark circles
One of your customer service reps recommended this product. I wanted to have coverage and moisture for underneath my eyes. This product works well and brightens under my eyes while moisturizing them. I'd highly recommend this product. glamgran
Verified Purchase
ColorScience Eye Renewal
Fabulous! Only way to describe it. It doesn't not settle in my pores. It looks light and bright and it has sunscreen....non drying sunscreen. JoannaP
Verified Purchase
Love the SPF factor, still trying to perfect the application process
I received a sample of this from a prior order and after trying it I decided to order it. The sample shade was medium and it blended well with my skin but since I do lean more towards being fair I decided to try the fair shade. I'm glad I did because it definitely brightens up underneath the eyes a little bit more than the medium. The reason I gave 4 stars and not 5 is because even with a small amount of product I find it collects in fine lines. Maybe it's me, I've only been using a little over a week and I'm still trying to figure out the right amount that won't cause it to crease but still covers. Overall I really like it tho, especially love that it contains SPF! Fitzy1993
Verified Purchase
This answered my prayers for peeling under eye skin
Great under eye protection with a little concealer to help with my dark circles. It feels great to apply as it has a built in metal applicator that is cool to the touch and gives you a little pep-up feel. LovelySkin Customer
Verified Purchase
Excellent Coverage
Product was purchased as I liked the idea of an all-in-one eye product. This effectively covers, moisturizes and protects. I got the medium color and would probably try a lighter shade next time as I'm fairer in winter months. I got the best application by lightly patting in on. SurpriseNancy
Verified Purchase
Great coverage, smooth application
This eye concealer goes on like butter. It moisturizes under the eye and therefore helps hide my wrinkles. The way the dispenser pumps helps you regulate how much comes out of the container per use. I put a lighter color concealer below this one on my cheeks and blend them together. It's a perfect match for my skin and dark circles. MamaSchaefer
Verified Purchase
Colorescience Total Eye 3-in-1 Renewal Therapy SPF 35
I like that it's got all I need for my eyes in one tube.. especially for the summer days. Good coverage. Thanks. Colorescience Total Eye 3 in 1 Renewal Therapy SPF 35
This is my fourth order of this product. I don't know how I ever got along without it!! Great cover and I even use a little on upper lid. Comes in a great variety of shades to suit everyone. Thank you for introducing me to Colorescience!! irishrose2
Verified Purchase
Love it!
I bought this to use on vacation for extra protection and ended up liking it better than any concealer I have ever used! Will definitely be repurchasing this! LovelySkin Customer
Verified Purchase
Holy moly!
I suffer from incredibly dark purple and puffiness under my eyes. I had tried this product at the dermatologist office but initially chose to go with the PCN under eye gel. After buying that gel two times (so expensive) and no results, I decided to switch to the Colorescience treatment. What a difference! The other stuff, I had to use a concealer under and it still didn't look this good. The Colorescience total eye treatment is worth every penny. I would post before and after photos but frankly I'm too embarrassed of how purple my under eye area is. I texted it to a few friends and family and got a lot of "wow! What product is that!?" responses. Buy this! Love it!
I was hesitant to purchase this item because of the price but I am so happy I did! I have dry under eyes so I usually apply a translucent powder on top. LovelySkin Customer
Verified Purchase