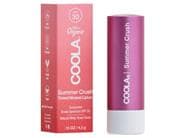 Write a Review - Receive 50 Rewards Points!
Tell us your thoughts about COOLA Tinted Mineral Liplux SPF 30 so we can help you find the right products. With your review, you'll also receive 50 Rewards Points. Please note that it may take up to 72 hours for a review to appear on site. All reviews are subject to moderator approval.
Write a Review
23 Results
Firecracker is WONDERFUL
I love, love, love, LOVE this product. It's creamy and smooth and Firecracker is the perfect shade and color for me. It's kind of a warm pinky-red that's one or two shades darker than my actual lip color. It looks incredibly natural and isn't trying like many mineral lip sunscreens. I'm here to purchase another tube! BirdieKitKat
Verified Purchase
This is my new summer crush!
I love this stuff! It is a lovely, natural, matte rose/pink. It gives just a hint of color but you can top it with a clear gloss to fancy it up. The color fire cracker is definitely a bright red but this one, summer crush, is a hint of color so pick this one if you want a pink color. It looks darker in the tube than it does on. Nude beach is a fooler....it's not pink but more of a creamy beige. This goes on smooth like a chapstick, meaning it is not slick or glossy. However, it is very hydrating and has nice staying power. I love the higher SPF too. I highly recommend this product. ChicagoAmy
Verified Purchase
foul scent after 5 weeks
I bought 2 colors of the SPF lip lux - the nude beach & summer crush - after 5 weeks the "nude beach" has a very foul scent.... both smelled fine new but the one now has developed a racend smell for some reason. LovelySkin Customer
Verified Purchase
My lips never peel with this product
After trying other brands of sunscreen for my lips, I took my friends advice and bought a tube. In the past I've had nothing but struggling with keeping my lips moisturized when I used sunscreen on them. This product keeps them soft, moisturized feeling and most importantly, they do not peel. The color is a nice soft pinkish coverage and they do not have that matt look like with some physical sunscreen products. I'd highly recommend Coola Tinted Mineral Liplux. I'll probably try an additional shade sometime soon. Perfect!
It stays on, is a beautiful, bright, fresh color of pinkish red, and has sunscreen! I do, however, like to add a more moisturizing balm on top for some hydration. LovelySkin Customer
Verified Purchase
decent product
This product goes on smoothly and has a decent semi opaque coverage. It is lightly moisturizing. I have to frequently reapply it. LovelySkin Customer
Verified Purchase
Love the Purple Sky!
I'm pleasantly surprised to have stumbled across the COOLA Tinted Mineral Liplux SPF 30 in the color 'Purple Sky.' I was so sad when Maybelline discontinued my old favorite -- grape Baby Lips chapstick (best color ever!) and this COOLA color reminds me of that! Great SPF too! I'm ordering another one to have on hand and one to give as a gift! LovelySkin Customer
Verified Purchase
Great color and protection
I've been searching for a high SPF level to protect my lips and really like the color of this balm. peggymcquillen
Verified Purchase
Great Lip Tint w SPF
These are great if youre looking for a lip tint w SPF that is water resistant. The SPF is 30 too which is another bonus. The packaging is a pretty light colored metal which keeps the balm from melting. I chose Coral Reef this time and it is a light warm pink. The Summer Crush is a light pink too but more cooler in tone. The Coral Reef suits my warm skin tone a bit better. The other colors (besides Firecracker) for this line are much fainter. The biggest color pay offs are: Summer Crush, Coral Reef, & Firecracker. The only down side is the product can be a bit drying but not enough for me to not use it. The benefits outweigh that con. Also, the price on Lovelyskin is a great deam for these! LovelySkin Customer
Verified Purchase
Must have for the summer
I absolutely love this color! It is the perfect lippie for my tan complexion and I love the fact that it has SPF 30 in it. It deposits a nice subtle color without being too waxy. I will be wearing this daily and while laying out. Preppygirl20854
Verified Purchase
Tinted lip screen
I love this stuff! It's the first tinted lip sunscreen that actually shows up and is on trend with its matte look. Brianafsu
Verified Purchase
Coola Liplux
Pretty color and goes on very nice. Not as moisturizing as so many others, so I took a star off. Love This Lip Moisturizer
And the color too! So soft and perfect. Have come to love it
I can only really review the Summer Crush color at this point. It does have a nice amount of color. I have ivory skin, and it is a perfect nude pink. This product protects well, looks pretty, feels moisturizing, and does not irritate my lips as many SPF products do. I give it 4 instead of 5 stars because of the initial texture that others have noted. When I started using this, it felt dry and crumbly, but after several applications it started applying very smoothly. I like it so much I have ordered two other colors. They also have the initial dryness—especially the purple one, which also smells really odd, so I'm just hoping they will soften and get good. SeaBean
Verified Purchase
Swampmonster
I really like this product. The sun protection is mineral and not chemical. The color I choose, Nude Beach, is perfect for my fair complexion. It looks natural with just a hint of pink. The color does not change as many do. The color that first goes on stays true. It is creamy and hydrating. I will be buying a second so I can have one in my makeup drawer and one in the purse. The screw on top is great for the purse. I believe I will be wearing this almost everyday. LovelySkin Customer
Verified Purchase
Summer Crush: Natural, Rose scented, and nice color transfer
This is a wonderful product. SPF 30 is hard to find for lip protection. Natural ingredients (Vegans FYI contains beeswax and Carmine) and good color transfer. Love the rose scent of this shade. It also does not sting when applied as I've experienced with Jane Iredale's Lip Drink SPF 15 Lip Balm. Another product with a long list of natural ingredients (17). However, found it irritating, and there was no noticeable color transfer with their similar color Crush. LovelySkin Customer
Verified Purchase
Pretty balm
The color is subtle but pretty. A little gritty texture until it warms up while applying. Love the mineral nontoxic SPF. LovelySkin Customer
Verified Purchase
Not Attractive
I love the idea of this product but it is not worth buying again in my opinion. It has an unpleasant "lipsticky" taste and goes on super matte. I was looking for something like a balm. LovelySkin Customer
Verified Purchase
Great for everyday use, but tint is very light
I've been using this almost everyday. It's a light protection for my lips when I exercise or don't want to put on lipstick with a lot of color. I like the brand and that it's got SPF for lips, but there is less tint than I expected. It's also good for wearing over other lipstick. LovelySkin Customer
Verified Purchase
Moisturizing with hint of color
This lipstick goes on smooth and moisturizes without feeling sticky. I have the summer crush color, which is a faint pink, and the firecracker, which is a little redder. Both colors are subtle and work with my fair skin. I really like the SPF 30, too! The perfect combination of SPF and lip color in a natural product. LovelySkin Customer
Verified Purchase
COOLA Tinted Mineral Liplux SPF 30
Love this. Goes on smoothly. Nice color and SPF built in. Perfect for on the go. LovelySkin Customer
Verified Purchase
Moisturizing!!!!
I am loving this SPF lip color!! I've tried a few other SPF lip balm products from other brands, and this is the most moisturizing formula I have tried. Others have left my lips protected but chapped, dry and peeling. This one doesn't!!! It glides across my lips and leaves a nice subtle color behind. I would compare this to a tinted lip balm more than a full color lipstick as far as color payoff goes. I do have to reapply every few hours as the color fades, but I don't mind since SPF protection only lasts a couple of hours anyway, kinda reminds me to keep applying throughout the day which is a good thing (for me) since I forget to reapply sunscreen. I have the color Firecracker and will be trying the other colors next!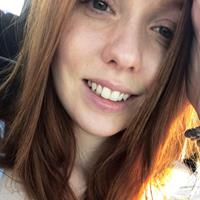 MandiS
LovelySkin Employee
decent product
I got this for a family trip to the lake since it is waterproof for a good period of time and has good mineral SPF. I ordered the color firecracker. It feels smooth after application but the color does not apply evenly at all. It looks like I put on cheap lipstick several hours before, and then it faded unevenly. Only my 12 year old daughter is fine with how it looks. Initially, it feels moisturizing, but eventually leaves my lips feeling dry unless I reapply it frequently. Overall, I think it's a decent product if you're needing a waterproof mineral lip block. Next time, I would get a more neural color that matches my lip tone.