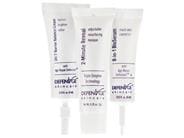 Reviews For
DefenAge 24 Hour Fast Starter Kit
$14.00
57 Results
I'm Impressed
My doctor recommended this line to me so I thought I would try it. I started with the small starter kit (really small-will last about 1-2 weeks when using morning and night), and then I just purchased the next size up. I am really liking this line, and when definitely purchase the full size kit when I run out. LovelySkin Customer
Verified Purchase
Didn't like
Glad I purchased this before buying the large sizes. The fragrance is really bad. Smells like cheap grandma lotion. LovelySkin Customer
Verified Purchase
Good kit
This kit is great for travel. Love the resurfacing masque, moisture barrier and serum. LovelySkin Customer
Verified Purchase
Great Starter
Didn't want to pay a hefty amount of money for this premium skin product and was delighted they had a starter kit which was great! Would recommend to anyone who is contemplating DefenAge. Healthy Skin!
I have tried many products. This is by far the BEST! LovelySkin Customer
Verified Purchase
Love this starter kit
Great way to try new products. The serum goes on smoothly, feels good and I already see some improvement on my skin texture. I even ordered it for my daughter to try. Great product!
Although this is a bit expensive the product works well for firming skin and holding in moisture. I have tried ALLOT of skincare products and this is just works! LovelySkin Customer
Verified Purchase
Great travel size!
DefenAge has become my go-to skin product. I have been using the products for about 3 months and have noticed positive results. I bought the starter kit for my travel kit. It's the perfect size of my favorite product to travel with. Couldn't be happier! AtownKim
Verified Purchase
DefenAge
I love this product! My skin definitely looked very refreshed after using it only a couple of days. LovelySkin Customer
Verified Purchase
Ahhhhhh!!
This product is wonderful!! I use it in the morning, and I stay moisturized all day. I don't know if I have seen a visible difference yet, but I have certainly felt a change for the better in the texture, and firmness of my skin. It is now a staple in my routine. LovelySkin Customer
Verified Purchase
Ok Product
I used this starter kit as looking for a new face regiment. Nice product. Just not what I am looking for Product
The sizes were so small there was not sufficient product to actually make an informational determination of the product. I will not be buying the product again. LovelySkin Customer
Verified Purchase
Amazing
It helps with those fine lines . For those struggling with scene , alternate steps . Leaves skin so soft and even helps with hyperpigmentation. Orena5642
Verified Purchase
I love the products
These 3 product used together are wonderful. my skin is smooth and dewy. LovelySkin Customer
Verified Purchase
DefenAge Starter Kit
This is a great way to try a new product without investing a lot of money! Since my skin has become more sensitive with age, I gave this a lot more time before investing in the full sizes, which I just recently did. I really like this product! I only use it once a day at night because I have several peptide and vitamin C serums that I like to use in the morning. My skin feels soft and has a glow! This is also great for travel since the product lasts longer than you would think! LovelySkin is the best place to purchase since the three basic products are sold in a kit at a discounted price... thanks again LovelySkin! LovelySkin Customer
Verified Purchase
Perfect Started kit
I love this started kit. My skin looks tighter as a result of these products. I'll be purchasing the larger size. This kit has a very soft fragrance that doesn't bother me at all. LovelySkin Customer
Verified Purchase
Loved it
I wish the sample had been larger so I could try longer. Appears to be good for my mature skin. Defenage Refiew
Love the product so much I order all five products offered by Defenage. LovelySkin Customer
Verified Purchase
Love this stuff!
This product is amazing, it literally transforms my skin, I'm in my middle forties, I have uneven skin tone and I have combination skin but when I use this my skin just loves it, my skin looks healthy and glowy, this would definitely be only go to if it wasn't so pricey :( LovelySkin Customer
Verified Purchase
Amazing
Love this product and the kit is perfect for travel! LovelySkin Customer
Verified Purchase
Great products, great size
Perfect for traveling or just to try the products before committing to the full size versions. Being new to Defenage I definitely will be buying the full size products and continue to buy the starter kit for traveling. Saves so much space in the tiny quart sized bag allowed by TSA. Jamy8522
Verified Purchase
Great New Product
Having used the starter package for a few weeks, I am now anxious to purchase the larger size. The cream and serum feel luxurious on my face and the fragrance is delightful. Can't wait to see all the improvements in my skin! Great product
This skincare line really does make my skin look great. It makes my skin glow and it does look smoother, particularly on my neck. The starter kit lasts me about 7/8 days as I use it sparingly. I have recommended Defenage to friends. Excellent product line
Based on all the good reviews, I decided to give this a try. The starter kit is perfect to test or travel and price is right. I did also buy the full size and with regular use, definitely see an improvement to my 57 year old combination skin. Skin looks tighter and brighter, pores are somewhat reduced, and the textures are very pleasing. Personally prefer the tune packaging to the full size pump, which is easy to use but too bulky. LovelySkin Customer
Verified Purchase
DefenAge Kit
This is a fabulous value for terrific products. I started using DefenAge about 6 months ago at the recommendation of my Plastic Surgeon's office. I have noticed that my skin tone and the firmness of my skin have very much improved. The new eye cream which was included in this bonus is terrific, and I especially like the coolness of the applicator tip. I hope DefenAge keeps coming out with more new products. LovelySkin Customer
Verified Purchase