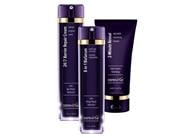 Reviews For
DefenAge Clinical Power Trio
$285.00
44 Results
Hopefully worth the $
Time marches on. I'm 65, grew up in coastal FLORIDA when there was no sunscreen but zinc oxide...worn by lifeguards on their noses only! I've used the NuDerm by Obagi for years but didn't like the ongoing peeling. The ease of this treatment has been a wonderful change and have been happy that my skin laxity hasn't increased....I plan on trying the eye treatment... just wish I'd done more EARLIER! Amazing product. It works
Yes, it might be pretty expensive BUT you are paying for the quality and effectiveness of the product. It truly works. I tried to use other products but I just keep on coming back to it. You can readily noticed the difference on my skin when I stopped using it (and it's not in a good way). Highly recommended. BeachDoodle
Verified Purchase
Very good!
I am on my second bottle of the serum and moisturizer. Love the simplicity of the system and I have seen good results. I don't like the mask as much, I prefer other exfoliation products, but I am using it for my body. LovelySkin Customer
Verified Purchase
Highly recommend!
I've used this product a couple years ago, and this set is amazing! It doesn't irritate your skin at all! It keeps your skin super soft, and your skin looks so much healthier than before! Kinda pricey but worth every penny!! Great product
My facial skin has improved dramatically. LovelySkin Customer
Verified Purchase
LOVE Love love!!!
This skincare is amazing!!! Best I've ever used. I don't even have to wear makeup because my face is so shiny from the glow of the skincare. LovelySkin Customer
Verified Purchase
Trying to Treat Melasma
First of all, I thought this was very pricey, but I decided to try based on all the favorable reviews. I really wanted something for melasma, but anti-aging a plus. I was impressed how little of this product you have to use and realized right away that although expensive, it would last quite awhile. Secondly, I noticed right away that this does help with fine lines. The sugar mask made my skin incredibly smooth and soft. I was shocked that such a fast mask could provide such great results. Finally, over time I have seen real improvement in my melasma. My very dark brown spots are lightening up. I don't use this twice a day, only in the evening, as I still use the Obagi line in the morning (for acne) but even with minimal use, I am very pleased with the results. I've been using Obagi for a long time now and while that takes GREAT care of my acne, it just wasn't touching my melasma or fine lines, this product is doing that. LovelySkin Customer
Verified Purchase
Excellent
I use the trio at night. I like the texture. I feel moisture and firmness to the skin after applying. I usually use another line but decided to try this after reading about it. It's a quality product. I recommend it. Heymonica
Verified Purchase
Best Skin Care line I have used to date
I am 54 and I started using Obagi in my 30's. From there I used Revision and now I use Defenage. I have been a Defense user for over a year. I love the way these products make my skin feel firm, soft and full of moisture. They texture of my skin is truly amazing. I would say my tone is very even as well. I can easily go without make up. If you can afford it, give these products a try. :-) LovelySkin Customer
Verified Purchase
Best skincare line ever
The results are amazing. I love everything about this DefenAge line. I have been using it for 2 years now and my skin has never looked better. Anything else I try does not compare. Will continue using this morning and night. LovelySkin Customer
Verified Purchase
Love this product!
Excellent! LovelySkin Customer
Verified Purchase
Love the feel of products
I've been using the trio for about one month, so I haven't seen drastic anti-aging results or reduction in fine lines, but I do love the way the products feel on my skin and the texture of my skin after use. The mask makes my skin super smooth. I am hopeful that I continue to see great results with continued use! LovelySkin Customer
Verified Purchase
Very good product, but the price
I wish the price would be more affordable! Product is good. LovelySkin Customer
Verified Purchase
simple and effective skin care
Recommended by my plastic surgeon. 3 steps to complete skin care. Great for all types of skin. Extra dry skin may need an additional moisturizer. LovelySkin Customer
Verified Purchase
Great Product
I've been using this product for over a month. It seems to have lightened my sun spots on my forehead. The serum and the lotion feel good. The lotion is very light. The cleansing scrub is a little harsh for my 50-something skin, so I just use it once a week. LovelySkin Customer
Verified Purchase
DefenAge trio
I have been using the barrier cream for a few months and loved it. Decided to go for the trio, which was a great decision. The serum along with the barrier cream works wonders! I also love the exfoliation that you get from using the mask. Wonderful to use especially in cold dry weather. Wish they would come out with an eye cream and neck cream. LovelySkin Customer
Verified Purchase
Flawless Skin
People keep commenting on how smooth and flawless my skin looks. The only thing I changed is I religiously use the 3 products above, morning and night. I use the scrub three times a week. I love how happy my skin is, and my facialist commented on it to me as well. LovelySkin Customer
Verified Purchase
Amazing! Love this DefenAge Trio!
I have been using the DefenAge Trio for three months, and the change in the texture of my skin is phenomenal! My 50+ year old face feels like it's at least 20 years younger. It feels so smooth and my pores are diminishing as well. I tell everyone I know about this product, it is worth every penny! LovelySkin Customer
Verified Purchase
Noticeable improvement
I noticed improvements to the texture of my skin within a few weeks of using it. It even helps with dark spots! It's very simple to use–I prefer not to have a number of steps to do every day. It's light in formula so it doesn't feel greasy or heavy. LovelySkin Customer
Verified Purchase
Awesome
This system is absolutely amazing. I love what it has done for my 60-year-old skin. Easy to use and remarkable results. Thanks, LovelySkin, for carrying this brand -love it. DefenAge Trio
Expensive, but worth it! I have been using DefenAge for 2 months and my skin is more hydrated, smoother and refined. It was recommended by my plastic surgeon's office and it is, by far, better than any other skincare product I have used on my aging skin (and I have tried many). LovelySkin Customer
Verified Purchase
Age control
With continued use these products reveal how goes your skin can look. My dermatologist reviewed the line, and at first, I didn't see much difference, but after a month, my skin is noticeably brighter and firmer, wrinkles are less noticeable. I'm not going back to my Estee Lauder, which I used for 30 years. LovelySkin Customer
Verified Purchase
DefenAge Clinical Power Trio
I have been using DefenAge Clinical Power Trio for about 5 months. The positives of this product trio include: A small amount of product goes a long way. It is well absorbed and keeps my skin feeling hydrated without feeling greasy. This is important because my skin is dry and in the past I have had a problem finding moisturizers that keep my skin feeling hydrated. I also have very sensitive skin and am allergic to some other moisturizers. Fortunately, my skin tolerates DefenAge. In addition, the two tall containers that are used daily are easy to travel with, because the top of these containers rotate to either the open or closed position. Therefore, there is no risk of product escaping/seeping/being squeezed out of these containers while traveling. The one negative about these same two containers, is that there is no way of knowing how full/empty they are. I don't know they're empty until they are. The trio is meant to last approximately one month, so you need to order ahead and have a standby set ready. One way to overcome this negative is to keep track of exactly how long this product lasts for you, and make sure you order another set before that time is up. LovelySkin Customer
Verified Purchase
Great Products
These were recommended by my dermatologist, and I do really like them. The only downside is the small quantity and extremely high prices. LovelySkin Customer
Verified Purchase
By far, the best skin care I've tried
DefenAge has helped my 42 year old skin look more like 32! I've noticed a huge reduction in my marionette lines and my deeper forehead wrinkles. The fine lines are almost completely reversed and my most nagging issue, my jowls, have seen a visible lift. I've taken side by side pictures and shared with friends and family. This is a remarkable product, and I've only been on it for 2 weeks!! LovelySkin Customer
Verified Purchase