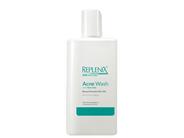 Write a Review - Receive 50 Rewards Points!
Tell us your thoughts about Replenix Acne Solutions Acne Wash with Aloe Vera so we can help you find the right products. With your review, you'll also receive 50 Rewards Points. Please note that it may take up to 72 hours for a review to appear on site. All reviews are subject to moderator approval.
Write a Review
20 Results
Good cleanser keeps acne/HS at bay
I use it as a preventative for nodular acne that occasionally forms in the inner thighs and armpits. Such an annoying, debilitating and ongoing condition. This does a pretty good job preventing it and clearing it up.
Did wonders for my skin
Since I began washing my face with this daily I have seen a significant improvement in my skin. I have less acne and some of my acne scars are disappearing. Highly recommend.
Great for acne!
Bought it for both of my teens and truly cleared acne. If your face ever gets a little dry from the soap then just use a non-oily facial moisturizer that your skin absorbs well. May not need a moisturizer because this particular soap has aloe in it. Recommend using it at night and in the morning and you only need a small amount. Very pleased with this product and will be purchasing more.
really great face wash if you are in an emergency situation
This usually works for me in a few days if I have a bad breakout. I usually leave it on for 5-10 minutes and then rinse. It's drying, but it does some serious work. My sister was also breaking out bad with hormonal acne, and she said it helped her a lot. Just make sure you moisturize properly otherwise it will make your skin hate you.
Would Recommend
This product works as advertised. I like the addition of the aloe vera as it helps to soothe the skin by counteracting the drying effects of the wash.
I would never use anything else.
I discovered this wash years and years ago at my dermatologist's. I was so happy to find this later on LovelySkin. This is the only thing I have been buying to wash my face with for years. It is strong enough to control my acne breakouts and oiliness (I only use it once a day), but the aloe prevents my skin from drying out and flaking like the other strong washes did. I put it on at the beginning of my shower and then rinse it off before I get out. I would highly recommend it to anyone with oily skin and acne! Thank you, LovelySkin!!
Great For Acne!
I've suffered from acne almost my entire life and this face wash is one of the only products that has helped me. My acne flares have slowed down tremendously! You can't find an acne wash with this strength of Benzoyl Peroxide in stores.
Love this
So happy I was able to find this product again. I love the smooth feel and how it helps my acne still in my late 30s. Will be purchasing again!
Great acne wash!
I have combination oily skin. I occasionally get these big cystic acnes on my chin. I use this wash once a day and it really helps drying up those acnes fast and It doesn't dry out my skin.
Acne wash
Great product although it can be a little drying but all you need is some moisturizer. Good for acne.
LOVE, Literally it is wonderful
Hi! :) I'm a 24 year old african american female, and i had combo skin. Oily, Csytic, blind, blackheads, all of it, all over my face and neck. The worst was the cystic and blind pimples that would form on my jawline and up the sides of my cheeks. I have a regime, and it used to include proactiv, but that wasn't proving to be effective. I knew I needed a Benzoyl Peroxide product, and this is what I found. Added to my regime it is gold. It took a week or two of pulling out all the gross stuff, but omg it was an immediate noticeable improvement. If you have sensitive skin this probably isn't for you. This is a great product, and i will be looking into other Replenix products! :)
Effective skin care product
While skin care is based individual, this product has helped my skin problems. It addresses combination skin issues.
best wash ever!!!
I have a acne problem about once a month with bad breakouts that no face wash could help. Then i was recommeneded this what a major difference, works like a charm and i use it daily now also be careful of the sun when using you will tan very fast with this product.
Works Very Well!
I've been using Derma Topix Benzaderm 10% Wash with Aloe Vera for over a week now, and I like how gentle it is. It has helped keep my skin clear, and I have noticed no irritation or redness. Overall, a great product that I will recommend to others.
Great Product!
Purchased it for my son and he really likes it. It doesnt make his face red like other products he has tried. Can see a difference in his skin after using for a couple of weeks.
Amazing !
within a little over a week after using this product all of my stubborn rocky mountain pimples have completely vanished. this product is a life saver for those who are in need to dry out the stubborn bumps that your cant pop away. I would recommend only the aloe was version of this product because after you wash the product off, your skin maybe feel slightly tight but that aloe is very soothing
Great body wash
I use this wash for my chest and back and it works great!
Great cleanser
This is a great quality cleanser!
If you like Derma Topix Benzoyl Peroxide Wash 10% - try this one with aloe vera!!
I use Derma Topix Benzoyl Peroxide Wash 10% for over a year now and I am very happy with it. Recently I found this one - all the same, but with addition of aloe, and let me tell you this - it works great. On the top of the clearing it also makes your skin look healthier and smoother, you can really feel aloe at work!!!
Love it!
This is a great face wash! Its creamy, lathers well and really cleans your skin without stripping it. I bought the one with aloe to keep my skin from drying out... I dont know if the one without aloe is stripping or not but I can say that this one(with aloe) does NOT strip the skin:)