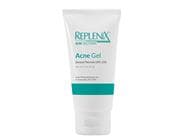 Reviews For
Replenix Acne Solutions Acne Gel 10%
22 Results
Works great!!!
This treatment has consistency of a thick white paste and definitely not a gel so you cannot apply all over face since it will be visible. I use it as spot treatment and it works well. It heals and dries out those pimples and eruptions faster. It calms skin inflamation well. Some moisturizing creams are a must when using this treatment since it is a bit drying. Good as a night treatment. I would like it more if consistency was gel-like so I can wear it under makeup. LovelySkin Customer
Verified Purchase
Seems to be helping
I like this is 10% BP BUT it's not a gel; it's a cream, and if you use too much, it leaves a white residue! Perhaps use at night. I'm using this along with my Obagi Nuderm regimen. LindaJo
Verified Purchase
Seems good
Got this for my teenage son. It appears to be doing some good. Some of the red spots are fading and he likes it so far. Awesome!
This product is really good, I got the small size to try it out and it works amazing :) LovelySkin Customer
Verified Purchase
Works!
I wasn't able to get what I normally use for adult hormonal acne. I tried this hoping it would be as good. Works great! LovelySkin Customer
Verified Purchase
Adult Acne Protection
I've used other similar products, so far I'm quite impressed with how fast it takes care of breakouts after just a couple of applications........................ Acne Treatment
The best acne treatment I have ever used in my many years on this planet. Highly recommended!! LovelySkin Customer
Verified Purchase
creamy acne spot treatment.
I only use this to help clear up any acne eruptions, and it helps them resolve without over-drying. The benzyl peroxide works better than most drugstore versions I have tried. I have not used it as a preventative allover my face yet. kitnnicole
Verified Purchase
Dries out blemishes
This will dry out blemishes, you'll need a moisturizer to keep from getting too dry overall. LovelySkin Customer
Verified Purchase
Great Product
This product does what it says! It cleared up 2 very bad breakout areas in less than a week. Even stopped a breakout before it got worse when I applied immediately on seeing a red spot. Great price. Will definitely buy this again! LovelySkin Customer
Verified Purchase
Love this Product for everyday use.
I use this every morning after I wash my face and it controls all my adult acne break outs. Will continue to use. LovelySkin Customer
Verified Purchase
Loving this Product.
The gel keeps my acne-prone skin under control. It's not too sticky or heavy feeling, which is important since I have oily skin. I have definitely noticed an improvement with my skin. LovelySkin Customer
Verified Purchase
Replenix acne 10% gel
Prevents breakouts and works great! LovelySkin Customer
Verified Purchase
potent
This stuff is potent but super drying. Make sure you use a moisturizer of some sort when it dries. I def don't recommend using under makeup. LovelySkin Customer
Verified Purchase
Great acne fighter
This is a low price but great benzoyl peroxide cream, one of the best I've ever used. It's potent, but it doesn't make me peel as much as some of the others. It also works on even cystic acne. I scar less when I use it, and they last three days, tops. Highly recommended, and the tube is huge. Doesn't smell unpleasant, doesn't sting & I don't have a reaction, even when I mix it with something else. Kind of a white cast, but I only use it before bed. LovelySkin Customer
Verified Purchase
Not good
Very expensive gel for it to not work. It smells awful and doesnt help acne. Dont recommend! LovelySkin Customer
Verified Purchase
Derma Topix Benzaderm Gel 10%
I have used this brand of BP off and on for years. I would try other, more expensive brands thinking those products would be better. But eventually, I keep coming back to Derma Topix BP Gel. Not only is it paraben-free, but its also extremely effective, and inexpensive. I have suffered from aging, oily, acne prone skin for years. To be 56 years old and still suffer from acne is horrible. I finally found a skin regime that works for my skin. Derma Topix BP Gel is the weapon that cleared up my skin within days. After 2 weeks of continual am/pm use, I am acne free and my pores are smaller. I use a gentle cleanser, LovelySkin toner, this BP gel, a hyaluronic serum, and a moisturizer. As a result, I dont experience drying or peeling. I also bought the 5% version of this brand and it also works as a great "starter" to get your skin accustomed to using BP or if youre skin is very sensitive. Both will cause a mild stinging to your eyes, but if you keep them closed while applying to your nose area / near your eyes, it will help. LovelySkin Customer
Verified Purchase
Effective, fast treatment
This stuff works like magic. It quickly reduces breakouts and absorbs into skin without leaving any white residue. I also find it to be not as drying as other 10% BP creams. I use it before going to bed and wake up with acne reduction, less redness, and no irritation. I definitely prefer this over other commercially available 10% BP creams on the market. The only negative is that it will bleach fabrics. LovelySkin Customer
Verified Purchase
Awesome product
I bought this for my husband to use. He really likes this product-gets rid of those stubborn blackheads. Thanks LovelySkin!! Very nice
I like this creamy lotion. Its not to drying if you couple it with a moisturizer. Really clears the complexion. One thing to watch out for though is applying it to the nose area as it is very strong and can burn your eyes a bit. I use it sparingly on my nose even though my nose has always been my biggest problem area for blackheads. Just a thin layer is all that is needed to keep blackheads at bay. LovelySkin Customer
Verified Purchase
PRETTY GENTLE YET EFFECTIVE
My hubby and I are enjoying this product. It works well without any added irritating ingredients other than the 10% BPO. Plus, it is matte and invisible and does not ball up under moisturizer or makeup. LovelySkin Customer
Verified Purchase LovelySkin Customer
Verified Purchase