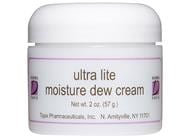 Reviews For
Derma Topix Ultra Lite Moisture Dew Cream Jar
24 Results
it doesn't do anything for me, and I dislike the jar packaging
I chose this based on reviews and the description that it is best suited for "dry skin." I have dry skin, and this was a mistake for me. The product is called "ultra lite," and it really is lightweight. It feels wet when applied, but I guess it just evaporates from my face because my face feels parched after a few hours. Also, I really dislike the wide open jar packaging. I am using the remains of my jar on my body and hands. LovelySkin Customer
Verified Purchase
Average moisturizer
I had high hopes for this based on reviews, but this is an "meh" item for me. I like the fact that it doesn't have actives that would interfere with my serums, etc. and that was my reason for buying it. However, it really doesn't do much to moisturize my face. LovelySkin Customer
Verified Purchase
Light weight
This moisturizer is lightweight but effective. Great for the summer and under makeup. I use every morning under my sunscreen. Light and Silky
I have used this product for awhile but this is the first time buying it from LovelySkin. It is such a light and silky moisturizer that quickly absorbs into the skin. I have rosacea and this product doesn't cause any irritation whatsoever to my face. You need to use such a small amount that the jars last me quite a long time. The prices are always so much better on this site than at my dermatologist's office! Great light moisture
This moisturizer is great for us who live in humid climates. It's so light you can't even feel it on your skin but at the same time it's moisturizing enough your face doesn't feel dry in a few hours. If you need a light moisturizer for the summer this one would be great.,,,just remember to use your SPF.....that's the only thing missing from this good product AngDen11
Verified Purchase
wonderful product
I am so happy that I finally found a moisturizer that works for me. I use Obagi products & Borghese. This is a good change, as I think you have to change products for a while. I use for a while then switch back for a while to other products. I love my other products, but I can see and feel the difference. LovelySkin Customer
Verified Purchase
Simple, effective and affordable
My dermatologist recommended I use this as a night cream after I visited to find a solution for a sudden onset of mild adult acne. I use a tiny amount of a prescribed Aczone gel on my face first then follow with this, and my skin is moisturized without being greasy. I have very sensitive skin, and this doesn't cause any irritation, to me its cooling and calming. A few times a week, I add in a retinol before this cream and my skin is looking great. LovelySkin Customer
Verified Purchase
Great for sensitive skin
Wonderful moisturizer to use with retinol serum if you have sensitive skin. I use a .25 concentration of retinol that's perfect for me, plus this moisturizer on top. Works well! LovelySkin Customer
Verified Purchase
Great Moisturizer
Love this reasonably priced moisturizer. Also have it in the pump, but this is particularly great for traveling. Light and refreshing. Recommended by my dermatologist, and I love it! LovelySkin Customer
Verified Purchase
Great
I love this moisturizer. I use it after I exfoliate, so I won't have any irritation. Great price too. LovelySkin Customer
Verified Purchase
Great for oily, pregnancy skin
Now that I'm pregnant, my skin care regimen is going through a detox. I turned to this moisturizer because it didn't have all the chemicals my other moisturizer have. This does a good job addressing dry spots and dries quickly into my skin. LovelySkin Customer
Verified Purchase
Couldn't live without it
I use this every single day and night at the recommendation of my dermatologist. AM mixed with sunscreen, PM by itself or mixed with a dab of pricier lotion or even some acne cream. It's a thicker cream, but it dries light and never feel builds. For the price, I absolutely love it. I just wish it came in other sizes. LovelySkin Customer
Verified Purchase
Simple and effective
Have been using this product for over a year now and love how it works with my oily skin. Very light and not greasy at all. LovelySkin Customer
Verified Purchase
Dew Cream
I have highly sensitive skin and this cream has been fantastic to use. I have a tendency to avoid using moisturizers because my skin (especially chin area) tends to breakout. This cream has left my skin refreshed looking and has not caused a single breakout. My skin feels softer and looks hydrated. A++ in my book. I already reordered it in the pump size! BHarrison
Verified Purchase
Great Facial Cream
My daughter got this lotion last year from her friend and loved it. I was so excited to find it on this website for less than AMAZON!! It is very light and good for sensitive skin - especially young teens. My teenage son also has used it for his dry skin - this is a great product at a great price! Thanks LovelySkin! LovelySkin Customer
Verified Purchase
Great light moisturizer
Moisture dew is a light moisturizer which I use in the daytime. It is light, not greasy. LovelySkin Customer
Verified Purchase
Awesome product!
I have been using this product for 10+ years. It was prescribed to me by my dermatologist, and is by far the lowest price item in my product list - and an incredible value. It absorbs instantly with no overpowering scent. Highly recommend! LovelySkin Customer
Verified Purchase
Excellent moisturizer
I've been using this daily for years. Light and comfortable, does a great job. LovelySkin Customer
Verified Purchase
Favorite moisturizer
This is my favorite daytime moisturizer over my serum. It's lightweight, calming, and moisturizing for my sensitive acne-prone skin. I like to warm it between my hands and pat a thin layer. LovelySkin Customer
Verified Purchase
Ultra lite
I love love love this cream. It's not heavy yet it completely gives moisture to my dry skin. My dermatologist recommended this to use while using Retin- A and it is well worth it. It is cheaper at LovelySkin than my dermatologist office yet the products are identical. A must have for Retin-A users!! LovelySkin Customer
Verified Purchase
Eye Makeup remover
This is the best stuff! Great for hydration as well as to remove the most stubborn eye makeup! Win, Win! LovelySkin Customer
Verified Purchase
ultra lite moisture dew
This moisturizer was recommended by my dermatologist for my very sensitive skin. It is not greasy but very lush and I use it 2-3times per day. I use it generously and find that it makes my skin so soft. I always keep extra jars on hand. My husband uses it as well , it helps his dry skin. A must have! LovelySkin Customer
Verified Purchase
Cant live without it
This is a great everyday, anytime skin cream. It is reasonable priced and it great to use in combination with other skin care products because it provides the basic hydration without additives that may interact with your skin care regimen. KarenMarie01
Verified Purchase
gentle moisturizer
this was recommended by my facialist and i love it! gentle to my combination skin. i especially use it after facial treatments such as peels and microdermabrasion. plus it is so much cheaper to buy online here than in the medspa. LovelySkin Customer
Verified Purchase