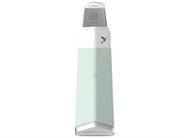 Write a Review - Receive 50 Rewards Points!
Tell us your thoughts about DERMAFLASH DERMAPORE Ultrasonic Pore Extractor & Serum Infuser so we can help you find the right products. With your review, you'll also receive 50 Rewards Points. Please note that it may take up to 72 hours for a review to appear on site. All reviews are subject to moderator approval.
Write a Review
11 Results
at home treatment
During a facial at a well known spa I experienced the ultrasonic blade and loved the feel of my skin post treatment. I have been using the Dermaflash Dermapore Ultrasonic Extractor and have the same results I felt during my facial at the spa..I use it 3 times a week. It really works
I was honestly quite surprised by how effective this product was at unclogging my pores. The thing I have to watch out for is to not over do it. I've also used the device to help serums sink into my skin more. I can't quite tell if that mode is working for me or not, but it does feel like a nice, topical vibrating massage.. LovelySkin Customer
Verified Purchase
A Dream Come True for Combination Skin
While I have been blessed with great skin. I have always dreaded those hot, humid summer months because my combination skin signals me to transition from my normal beauty routine to fight against the oil build-up in the T-zone.; primarily on the chin and nose This little tool is able to reach that area in the cleft and slides easily over the area between the lower lip and chin bone where oil loves to collect and causes those pesky hard white bumps, black heads that I could not see before, and causing that entire area to appear less firm and wrinkled as you enter your 60's or before. Since using this, in conjunction with my regular mask scrub, I am starting to see an improvement only after 3 weeks and switched from using the Dermapore several times per week to once a week to prevent dryness. We are all different, so you need to experiment with what works best for your skin type. Be patient and you, too, will see some wonderful results. Because this tool will only work with water, I have found that rather than trying to use this over a sink and splash water every where, I now use a small bottle and mist my face, where needed. The Best Extractor for Blackheads
I love the Dermflash Dermapore Ultrasonic Pore Extractor for removing whiteheads & blackheads on my nose. LovelySkin Customer
Verified Purchase
Great Tool
Wasn't sure what to expect with this little tool, but it completely surpassed my expectations. It's so easy to use and was very effective in unclogging pores. Highly recommend. LovelySkin Customer
Verified Purchase
Dermaflash Dermapore Ultrasonic Pore Extractor & Serum Infuser
Was surprised at how well this device worked! I have only been using it a short time, but it really brings 'things' to the surface. The serum infuser feels amazing! Happy to add this to my arsenal to simultaneously fight zits & aging! LovelySkin Customer
Verified Purchase
Works well
This product did everything I expected it to do. It's important you keep your face wet the entire time, or else it won't work. If you follow this step and use a soothing serum after the treatment, you will see the benefits. LovelySkin Customer
Verified Purchase Great tool to have at home
I keep this in my shower and I use it right before I get out and my pores are open. This is a well made tool and I'm glad I have it. Catherinesophia
Verified Purchase
Recommend
I barely get anything removed when I use the Dermapore, but I feel it's clearing up my skin. It's strange. I used it on my 13-year-old son, and it didn't extract any of his black or white head, but I did feel his face appeared cleaner/fresher afterwards. Perhaps over time, it will eventually loosen his clog pores. I'm willing to give it a try. If you have pores, you need this.
I have been using the Dermaflash exfoliator for a while now, and I absolutely love it. However, it alone has not resolved my issues with daily pore clogging so I have continued to basically gouge out my pores manually (since having extraction facials every day is impossible). As soon as LS dropped this on the site, I grabbed it. It took 3 or 4 runs to figure out how to maximize its effectiveness, but it works like a charm. Instructions say your skin must be wet and it means what it says--not damp, wet. Once I got it down, I got amazing results. This little charm cleans out 98% of the daily gunk with ease. I still have 3 or 4 extremely large pores that required manual extraction but these are the same ones I have to have treated in-office. My skin is so clear and smooth using the Dermaflash combo. Products went on far better with just the exfoliator tool but the Ultrasonic Infuser option in this one gives an extra boost. I am beginning to see results with my serums and that I had not seen before. HIGHLY recommend to anyone who has pores, i.e. you need this. skincarefanatic
Verified Purchase