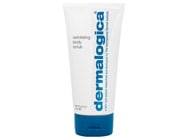 Reviews For
Dermalogica Exfoliating Body Scrub
3 Results
Good for exfoliating
Ive only used this a few weeks, so this isnt an expert opinion by any means. Being in the desert Southwest and spending a large amount of time outside, I use a lot of body lotion. My skin needs occasional exfoliating and this product does a good job. Ive had no skin reactions from using it and thats a HUGE plus. However, I was hoping for a bit more assistance with the aged look that my skin has. Thats primarily what led me to this product. That said, I will continue to use it as I do feel that its helpful for my skin. LovelySkin Customer
Verified Purchase
Good Results
This scrub does just what it says.... Nice smooth skin with continued use. LovelySkin Customer
Verified Purchase
for all-over smooth as new skin
This product has an easy to use consistency and spreads on quite smoothly. Skin is left clean and silky after it is easily rinsed off. There is no waste as in other similar items because the product goes on so effectively. LovelySkin Customer
Verified Purchase