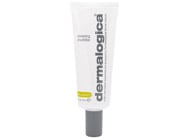 Reviews For
Dermalogica MediBac Clearing Mattifier
6 Results
Not sure about this one.
I wanted this to be really great and it isn't. LovelySkin Customer
Verified Purchase
Nice in place of makeup
I've used with my makeup, just in the T zone. It seems to work better without my makeup. Gives a nice finish to my skin and doesn't clog my pores. LovelySkin Customer
Verified Purchase
Just ok
Bought this to see if it would help control my oiliness and keep my occasional pimples in check better than the Clearisil that I've been using for 20 years. Trying to ween myself off of benzoyl peroxide. The product was ok. It didn't control my oil as well but it does seem to provide a smooth layer/primer before applying makeup. Probably won't purchase again due to the high cost. LovelySkin Customer
Verified Purchase
wonderful
I got my makeup done at a salon, and this product was recommended to me! I use the Vivete system, and since there is only salicylic acid in the exfolitating facewash, I was looking for something with salicylic acid to complement. I noticed a huge difference in how my face looked when using this product with VIvete! LovelySkin Customer
Verified Purchase
My new Love!!!
I have very oily skin and under a doctors care for it since I was teen. After 3 kids it flared again to the point that my makeup would actually change colors due to all the oil on my skin. After using this product once I noticed that my makeup actually stayed true to color and did not change at all. I found that I do not feel greasy with using the product either. I love this so much I just use as an everyday wear item without makeup. LovelySkin Customer
Verified Purchase
This is a Very Good product
I am so glad Lovelyskin has this product,i have purchased when i travel to the mall at a skin store,this works real well to control that t-zone shine,& conceal pores,your skin appears smooth & lasts all day.I love it. so glad i can order this here now.