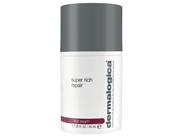 Reviews For
Dermalogica Super Rich Repair
$89.00
47 Results
Great for Dry Skin
I have been using this cream for many years and it does not disappoint. I have rosacea and this cream helps keep my dry sensitive skin hydrated. LovelySkin Customer
Verified Purchase
My go-to night time cream
It would be difficult to find a better overnight cream. My skin is still smooth and moisturized in the morning - and I live in dry Arizona! Have been using it for years and, although I sometimes use a variety of moisturizes during the day, this is the only one I use for overnight. so rich!
The richness of this moisturizing cream makes wonders! My skin literally got more smooth after a week. Colette
Verified Purchase
More moisture
Have been using this product for years. It gives me the moisture I need at 75 years old. It is heavy but it works for me. If your skin is really dry, try this. It does go on sale occasionally. very rich cream, suitable for night time or long flights
I can see this moisturizer being good for eczema, very dry climates, or long flights. It's very rich and thick. A little goes a long way, but the texture makes it a bit hard to spread over your face. It's quite oily feeling, so I wouldn't wear it during the day, but it creates a nice moisture barrier for sleeping in. LovelySkin Customer
Verified Purchase
Great
I have been using this cream for a few years now and love it. I'm in my late 50's and it's the only cream that works well for my dry skin. Will definitely repurchase LovelySkin Customer
Verified Purchase
Dermalogical rich repair
I have been using this moisturizer for several years and have noticed a dramatic difference in my skin! Well worth the cost since a small amount goes a long way! LovelySkin Customer
Verified Purchase
Can't live without it
This product has been a blessing to me as it soothes my extra dry mature skin leaving it with a youthful, dewy finish. I have tried many different moisturizers but will not change after finding this one. I've been using it morning and night for three years. It has little or no discernable fragrance which I appreciate. The Absolute Best
Thick and rich. Superb for aging dry skin. Excellent for sensitive skin especially in the winter. I just love this as a night cream. I wish it weren't so expensive as I use it every night. It is rich
This is the moisturizer I have loved for my over 60 year old dry skin. LovelySkin Customer
Verified Purchase
Dermalogica Super Rich Repair
I am very pleased with this product. This winter was milder in New England so I didn't need to use it as often as in years past. LovelySkin Customer
Verified Purchase
Awesome moisturizer
I love super rich repair because as I age and dry out I find it the best moisturizer for keeping my skin looking healthy and youthful. Been using it for years. Great for painful skin.
Both my mum and I have highly sensitive, and dry skin. So far, this is the only creme that lasts all day and makes me forget about my face for once. Luscious
This is my favorite go-to cream for winter. It is thick and protective. My skin drinks it up quickly. No sticky layer on skin. Rub a bit between your fingers for ease in smoothing on skin. LovelySkin Customer
Verified Purchase
Nice cream
It has been very hard to find a very good night cream for my very dry skin, so far this one is probably the closest one even if not as moisturizing as I would like. It's pretty thick at first and then kinds of melt in your skin. I like the smell. Still looking for my perfect cream though! Tempesta1
Verified Purchase
Super rich for my dry skin!
I love Dermalogica Super Rich Repair especially during each winter the heating on. It makes my face skin more soft and less dry. LovelySkin Customer
Verified Purchase
Thick and creamy
This is not a lightweight lotion. It's thick and creamy for dry and/or older, thin skin. It makes a great nighttime moisturizer for skin in dryer climates and cold drying winters. I have found that it make my skin much more supple. Great cream. LovelySkin Customer
Verified Purchase
Highly Recommend for chronically/excessively dry + sensitized skin
This product never fails. The price is very good and fair too for a lovely thick luxurious cream which will actually make a HUGE difference to your dry skin. My skin is and always has been chronically dry skin, with flakiness and terrible sensitivity. I have tried literally everything–from super expensive products to the very best of facials and cosmetic grade products but this cream actually works better than most. LovelySkin Customer
Verified Purchase
Great Rich Moisturizer
This moisturizer is great for my dry, sensitive skin. I put it on every night and it makes my skin feel so soft in the morning. It is perfect hydration for my dry skin. Love it. LovelySkin Customer
Verified Purchase
Soothing and rich moisturizer
A sample of this product was included in an order I received and I was was pleasantly surprised how wonderful it felt on my skin. I have relatively dry skin and this product seemed to give my skin the boost in moisture that it needed. It does not lay on the surface but was totally absorbed. And, it's not oily. It has become my primary moisturizer during the day and at night. I have ordered it twice now and will continue its use. LovelySkin Customer
Verified Purchase
Feels great
I have very sensitive, combination skin. My neck tends to get very dry at times. I needed a cream that had some anti aging qualities but was still very gentle. Most of all, it needed to be rich enough for my dry skin. This cream was just what I needed. LovelySkin Customer
Verified Purchase
Nice Moisturizer
This is my second order of this product. It is a really nice moisturizer that I use at night, although it can be used in the morning as well. It makes my skin feel wonderful. Mwhitac
Verified Purchase
Saturating and calming
I love this cream and have used it nonstop since discovering it. I slap on a lot of serums, creams and whatever else says it will help my skin. Having always had very sensitive skin, it can be an issue to have it feel good. Without fail, after all the rest is applied, I apply Super Rich Repair at night and love the way my skin calms immediately, is hydrated beautifully and glows as I drift off to sleep. LovelySkin Customer
Verified Purchase
Very moisturizing cream.
My face is dry and getting fine lines. This rich, thick cream truly does moisturize my skin and smooths out wrinkles. It is very thick, but absorbs quite quickly. I am also super-sensitive, and this cream does not cause any redness or irritation. LovelySkin Customer
Verified Purchase
The richest cream ever
I love this cream. It is so rich and hydrating. I started using it about a month ago, and one of my clients asked if I had some work done on my face. I am convinced it was this cream's hydrating effect. LovelySkin Customer
Verified Purchase