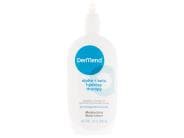 Reviews For
DerMend Alpha + Beta Hydroxy Therapy Moisturizing Body Lotion
$26.49
Love this lotion
This lotion makes my skin so soft! I love it. I recommend it and will buy it again. No scent too! LovelySkin Customer
Verified Purchase
Recommendation from my dermatologist
I am 69 and have skin that looks like an alligator. She told me this will help thicken and moisturize skin. I can tell that the active ingredients are powerful because the inner aspect of my elbow area is bright red and raised. I just cut back from twice daily to once daily to give it time to heal. After a month I haven't yet noticed a difference in the appearance of the texture but maybe over time it will change. It's ok
This product is moisturizing but not much better then other products I've tried. LovelySkin Customer
Verified Purchase
DerMend Alpha/Beta Hydroxy lotion
My dermatologist recommended this lotion and I first bought it at her practice. I tried finding an on-line source and found that it's not carried many places, but it was at LovelySkin.com. I've been buying it ever since and recommended this product and this site ever since.This lotion is good for aging skin as well as for getting rid of those little bumps you find on the back of arms. (Keratosis Polaris) Nothing I used before got rid of those but this does! strong and tingles
This hydrates and exfoliates. I definitely felt the tingle on my skin. It's working to make it smoother and softer. Excellent hydroxy lotion!
I was in a discount store looking for deals and came upon this lotion on sale I read all the ingredients and bought two bottles. In less than a week I see amazing results, and this stuff is my new go to moisturizer!! The smell is not so great, but the results are fantastic and I love how my skin feels and looks!! Highly recommend it! Great exfoliation
Great multitasker, this does both moisturizes and exfoliates very well and without irritation for my skin. I recommend it for normal and dry skin. This product keeps my skin soft and smooth all year long. LovelySkin Customer
Verified Purchase
It Does the Job!
My dermatologist first recommended this product to me a few years ago. I've used it ever since to help calm skin irritations and smooth my skin in general. It helps to soften some of the raised spots. I apply it every morning and evening. LovelySkin Customer
Verified Purchase
Smells bad, works so so
I was looking for a replacement for Lac Hydrin 5 lotion, the most effective lotion ever. Unfortunately, it is no longer manufactured. DerMend has a very funky smell, similar to AmLactin, which also has an acidic aroma. DerMend does blend quickly which is a plus, but for the price, it doesn't do anything special. It's just an ok lotion and doesn't really improve the dryness on my arms, legs or feet. Disappointing! LovelySkin Customer
Verified Purchase
Begone Crepy Arm Skin
This lotion is incredible, and I started to see results within the first week as dead skin started to lift from that crepey skin from the elbow to the wrist from sunbathing during my younger days. In fact, my entire body has a silky feel to it, and it spreads so beautifully, especially after bathing. I also apply before going to bed so that I can see faster results. Please be careful, however, if you have sensitive skin since this lotion is pretty powerful and you may see some redness or feel some sight irritation. I would recommend that you start by using it only once a day following your morning shower or bath and applying it to slightly damp skin. I am so happy that I finally found a product that actually helps to exfoliate so quickly. When I think of all of the products that I have tried, from high-end to drug store brands, and the money that I have spent searching for such a lotion to not only help with crepey skin but brown spots as well, I can't begin to express how pleased I am that LovelySkin has made Dermend Alpha+ Beta Hydroxy Therapy Moisturizing Lotion part of their wonderful line of products. This is definitely a winner! Best Body Moisturizer
Love this moisturizing lotion! It's awesome! LovelySkin Customer
Verified Purchase
Doctor recommended
I've always complained over dry, scaly skin on my arms and it's especially been affected by sun damage over the years. After an in-office procedure to help reduce sunspots, the Dr. recommended this product. I could not find this precise product at any store so had to purchase online. Although quite pricey for a lotion, I figured to give it a shot and it proved worth it. Not only does it help smooth my skin, my texture is so much more improved. I'm using it on my legs as well and I have to say I love the results, even better it's non-scented and it's a good sized bottle with an easy pump. LovelySkin Customer
Verified Purchase
DerMend Works
DerMend is a wonderful product and works very well for my dry skin. One of the very best! Their "Bruise Cream" is also the best I have found, at any price. LovelySkin has given me excellent service and fair pricing. LovelySkin Customer
Verified Purchase
DerMend - alpha + beta hydroxy therapy lotion
Like the lotion, keeps skin moist without the greasy feeling, however, it has a awful smell. LovelySkin Customer
Verified Purchase
Does what it says
Good price for the ingredients. It seems to work best when you put it on right after showering. Fragrance-free is also appreciated. Tingles a bit. LovelySkin Customer
Verified Purchase
Pleasantly Surprised
This is the very best exfoliating & moisturizing body cream. Ive tried several products with no results. Glycolic acid is the second ingredient listed & thats what it takes to resurface your skin. Used it for a week & ordered 2 more bottles to make sure I dont run out. You wont be disappointed with this product. LovelySkin Customer
Verified Purchase
Nice Surprise...
With a medical name longer than the arms it covers Ive dealt with some nasty sun damage for decades. Seems like Ive tried just about everything available both prescription and OTC with long sleeves being the best solution until I got a sample of DerMend. Accepting that Ill have this condition for life Ive been pleasantly surprised by this lotion. It has reduced the red appearance and flaky texture of the skin on my arms. It applies smoothly without a sticky feeling and keeps me moisturized for hours. I now have a full size bottle and look forward to continued improvement to my skin. Perhaps its a bit pricey but the results have been worth it. LovelySkin Customer
Verified Purchase
DerMend
This is a really good lotion. I felt that my skin was soft and smooth after I applied the lotion. I like the texture and the consistency. Its not sticky or greasy. Thanks Lovely Skin for the sample. Perfect Combo Ingredients
I was looking for a great glycolic acid body lotion. Came across this and I have now ordered my second bottle. Please do Not be fooled by pretty smelling lotions that may have minimal exfoliating benefits. This lotion seems to have all the right stuff. Exfoliate and moisturizers like a dream. I will continue to use this product. Yes, it is a bit expensive so if price goes up I may be forced to look elsewhere. If you are looking for some fancy smell, look somewhere else, I dont mean to say this smells bad, because it doesnt. It just works the way it is supposed to. LovelySkin Customer
Verified Purchase