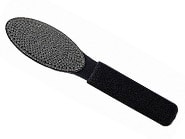 Reviews For
Diamancel Tough Buffer - #11
2 Results
So Satisfied
I still have a # 11 Dimancel buffer which I've had for over 10 years, yes it still works. But wanted another, just in case. It's the only foot implement that I've used that really reduces my callous. LovelySkin Customer
Verified Purchase
takes awhile, but it's effective
I bought this based on other people's reviews on other websites. It should only be used on dry skin as noted in the instructions and It does work quite well and much better than any pumice stone. It's pretty much a rasp for skin or sand paper made of metal, so technically it "grinds" the dry skin off. That's why you can't use it on wet skin. Since it's more sensitive for skin, the roughness on the rasp is barely noticeable when you run your hand on it, so it does take awhile to slough off all the dead skin. Be sure to add moisturizer afterwards and you'll be rewarded with smooth skin. And also beware of the pile of dust-like dead skin that you'll create a mess of as well. LovelySkin Customer
Verified Purchase