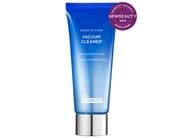 Reviews For
dr. brandt Pores No More Vacuum Cleaner
10 Results
Dr. Brandt's Pores No More Vacuum Cleaner truly is an effective product
I live in a very hot climate, and I hate the accumulation of sweat and product in my pores on my nose and chin. This products keeps my pores clean and seems to control excess oil as well. I use it regularly and recommend it to everyone who lives in hot humid climates! LovelySkin Customer
Verified Purchase
Works Great!
This product definitely extracts blackheads but does not prevent them. I have only used the product twice but it does the job as advertised. LovelySkin Customer
Verified Purchase
No more large pores
This product is the best so far that WORKS!! I LOVE THE WAY MY SKIN IS FEELING. ..smoother, tighter and reduced pore size. LovelySkin Customer
Verified Purchase
It works!
I use this when my blackheads become noticeable. Follow the directions, and you will be blackhead free, temporarily. Only use it on the affected areas otherwise youll go through the product quickly. I only use it on my nose and center of my chin. Dr. Brandt Pores No More Vacuum Cleaner
This is by far the best product I have ever used. I have very oily skin, large pores and blackheads, and this product has made a drastic improvement. Blackheads are gone and my pores are much smaller than before. My adolescent granddaughter has been using it and it is improving her skin. Great product. I also am a fan of Dr. Brandts cleanser and matifying lotion. LovelySkin Customer
Verified Purchase
Not my fave
Sending this one back. Didn't do anything for oil control as it stated,nor pore reduction, which is what I had hoped for. It wasn't worth the money to me. Sorry Dr. Brandt, this one didn't make the mark with me. LovelySkin Customer
Verified Purchase
This product does work
Dr. Brandt Pore Vacuum Cleaner works to deep clean pores and make them appear smaller. It is a bit drying a s stated in another review so follow with a light moisturizer. I recommend La Roche Posey Tolerene fluid which is not at all greasy and also has a cooling/ antireddening effect. LovelySkin Customer
Verified Purchase
Good product
I receiveda sample of this with my purchase. I used it and noticed a slight change but nothing drastic however I also received a sample of Dr. Brandt Detoxygen Experience Oxygenating facial and was very satisfied with that. If you are looking for a product that will have a better effect I would recomend Dr. Brandt Detoxygen Experience, If you only have a few blackheads I would recomend this product because it does work but the other has more of a drastic effect. amazing results
this is the only mask i use. i put it on before i shower, wash face and come out with better skin. i use it in conjuction with my pca line. unlike bijore strips i can use this while on retina-a and apply all over my face. it works! LovelySkin Customer
Verified Purchase
Very drying
This product leaves skin very dry. My skin felt tight after washing with it. Also, I used it with the Clarisonic brush, and it was almost impossible to keep the product away from my eyes, leaving my eyelids with a burning sensation for a couple of minutes. LovelySkin Customer
Verified Purchase