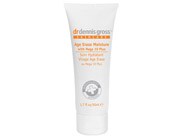 Reviews For
Dr. Dennis Gross Skincare Age Erase Moisture with Mega 10 for Face
5 Results
Great moistuizer for dry skin!!!
I have been using this moisturizer for about 2 weeks and i really like it. I have dry sensitive rosacea skin that reacts easily to alot of different products..... But not this one!!!! It hydrates my super sensitive skin with no recations at all. I have had reactions from other produts with retinol in them, retinol tends to dry my skin worse but this doesnt... Not sure if it is because it is in the form of retinol palmate ( instead of retinol) or just because it is mixed with other great ingridients to help moisurize my skin...but it feels wonderful!!!! This is my new go to moisturizer for sure!!!! LovelySkin Customer
Verified Purchase
Age Erase Moisture with Mega 10 for Face
Ive used this product for less than a month & believe my facial skin feels softer. It feels very light on my skin & so far hasnt clogged my pores. Im using it in the AM & will use it in the PM when I finish my previous night time moisturizer. LovelySkin Customer
Verified Purchase
Moisturizing with Good Ingredients
This cream is indeed moisturizing which greatly helps me combat the dryness in California and it is packed with lots of good ingredients. My only complain is that it seems to be a little heavy for my acne prone skin and leaves my skin a bit oily. LovelySkin Customer
Verified Purchase
Best moisturizer for my mature, dry skin.
I love this moisturizer and have repurchased it several times already and will continue to do so. It is full of great ingredients and it sinks in and keeps my skin moisturized all day long not just for a few hours. My skin looks so fresh when I use this and it is also very nice under eyes so it serves a dual purpose. Worth the price to me. LovelySkin Customer
Verified Purchase
Great
I received a generous size sample of this with a purchase and this moisturizer is wonderful. I am 55 years old with sun damage and menopausal skin. Love this product and will be purchasing the full size product. Thanks Lovely Skin for you great offers!