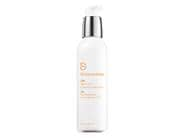 Reviews For
Dr. Dennis Gross Skincare All-In-One Facial Cleanser with Toner
$32.00
11 Results
love love love it!
This cleanser is SO gentle! I massage it in for 30 seconds with a soft plastic cleaner pad. Feels great! No need for moisturizer afterwards., the toner is in it. MariDotz
Verified Purchase
Did not work for me
Because Dr. Dennis Gross Skincare All-In-One Cleansing Foam was discontinued, I needed another cleanser and I wanted to stick to using Dr. Dennis Gross, so I chose to try this cleanser and unfortunately it didn't improve my skin, did not wipe off some of my make up and my breakouts came back. I hope they create another cleanser. LovelySkin Customer
Verified Purchase
Easy to Clean and Tone
The reason for this purchase was the fact you would take two chores and make it into one. Also, my understanding that face cleaners are best when they don't lather when using them. It is healthier for the skin and easier on the hair on your face if you color your eyebrows or beard. Yes, I am a man, thus the beard. I have met women who had beards, but we won't go there. Happy face cleansing, LovelySkin Customer
Verified Purchase
All in one cleansero
Like that removes makeup and skin feels clean but not dry or tight. LovelySkin Customer
Verified Purchase
Love it.
Love it. Just wish it took off eye make up better. Just use make up remover and its great. I do use an exfoliating face wash a few times a week to. LovelySkin Customer
Verified Purchase
Mediocre Cleanser
This product cleans my face well, but it makes it feel dry. And the cleanser feels a little slimy to me, and I wish it lathered at least a little bit. If I'm going to pay this much for a facial cleanser, it needs to be more impressive than this. Great cleanser
Wonderful cleanser-easy to use. A great product from this brand. Thanks LovelySkin for carrying this!!! Skin feels smooth and soft
I have oily skin and have tried many cleansers. This product is the best because it cleanses your skin without leaving it dry. Skin feels smooth and fresh. LovelySkin Customer
Verified Purchase
cleanser
I like this product. After using this my skin feels clean and not dried out. LovelySkin Customer
Verified Purchase
Best all-in-one cleanser
Great for removing eye makeup, doesn't dry skin out like many other cleansers do. Skin feels soft, smooth, clean and moisturized. LovelySkin Customer
Verified Purchase
MD Skincare All-in-0ne Facial Cleanser with Toner
Excellent product for acne prone skin as well as anti-aging. I have tried many other products in the past but find the results far better with this product. LovelySkin Customer
Verified Purchase