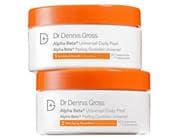 Reviews For
Dr. Dennis Gross Skincare Alpha Beta® Universal Daily Peel - 30 Applications
6 Results
Alpha Beta Daily Peel Pads
I love this product. I use these at night to really clean off all the makeup from the day and find them to work very well. I have been using these for several years. LovelySkin Customer
Verified Purchase
Alpha Beta Peel Dr. Gross
Best product ever! Thought I really looked after my skin well and that I couldn't get further improvement. In 5 months my skin looked clearer and pores vanished. It's not a harsh Peel as it's daily so it takes a little longer, be patient.. I have sensitive skin and use this peel daily along with Peter Thomas Roth peeling gel for a no residual feeling. Both life changers. I like the original but you can buy the stronger one if you like. That dried me out slightly. I used it for awhile on my mid section - nose and forehead when I wanted a quicker result. LovelySkin Customer
Verified Purchase
No Visible Results for Dark Spots After 1 Month of Daily Usage
1 month in of daily usage and there are no signs the dark spots have faded any if at all. In the description it doesnt say it, but it says it is very mild and/or for sensitive skin or first time users. I wouldnt purchase this product again. LovelySkin Customer
Verified Purchase
Awesome product!
I started using Dr. Gross Alpha Beta peels and my skin has been glowing ever since. I actually have strangers comment on how beautiful my skin looks- amazing! LovelySkin Customer
Verified Purchase
peel
This is a GREAT exfoliator..it really makes your skin look and feel great! LovelySkin Customer
Verified Purchase
My favorite home chemical peel
I have oily sensitive skin with large pores and post-inflammatory hyperpigmentation. I typically use at night and in the morning, my pores appear smaller and my face glows. The hyperpigmentation marks are slowly fading. I use this about 2-3 times a week because using daily makes my skin irritated. I didn't remove the jars foil protective covering and it keeps the pads inside moist. LovelySkin Customer
Verified Purchase