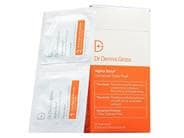 Reviews For
Dr. Dennis Gross Skincare Alpha Beta® Universal Daily Peel
$17.00
75 Results
My Favorite Regular Peel Product
As with the Dr. Dennis Gross Glow Pads, the Universal Daily Peel is my all-time favorite for this category. I use 1-2 times a week and weekly with the glow pads. My boyfriend always comments on how great my skin looks after I use them together. I've tested out a lot of other peel pads, but keep coming back to these. LovelySkin Customer
Verified Purchase
Acne prone skin at 50
I love this quick treatment for my oily and acne prone skin. I use the pads every 3-4 days and can definitely see a difference when I don't. There are few products on the market that are this easy to use and see results quickly. LovelySkin Customer
Verified Purchase
Soooo good!
Really made a clear difference in my skin -noticed right away and after a few weeks, my skin looked more smooth and tighter. I use it 3-4 times a week and I highly recommend! LovelySkin Customer
Verified Purchase
Great product
My dermatologist recommended this peel to help shrink pore size and fade minor discoloration. I only use the peel twice per week, not every day. It is very good at making skin tone more even and clearing out pores. I use a retinol product already so I cannot use these everyday , as my skin is sensitive. With that said, I did not experience any redness or stinging. I think I am going to try the stronger version when I reorder these, as I believe I have worked up to that level. Really nice glow with this product! Glow-Up
Want glowing skin? Buy these. Skin is left feeling velvety soft and is the best pregame for all your serums and moisturizers. Megs815
Verified Purchase
Nice product
My face is smoother than ever LovelySkin Customer
Verified Purchase
Outstanding exfoliater
I'm turning 65, and have to say this is by far one of the best products I've ever used! My face has never looked better or healthier! LovelySkin Customer
Verified Purchase
Excellent exfoliant
I love this product! I have mature skin skin, and use the universal peel 1-2 times a week. I have noticed a significant improvement in the texture and brightness of my skin. I have had no irritation, and my skin is left radiant and soft. The perfect exfoliant for me. LovelySkin Customer
Verified Purchase
what you need for a refresh face
I got them because heard so much about it...and it's true the glow you get is amazing. I do at night once a month and it feels that u took all the weight of the skin leaving it smooth and glowing..I have oily skin type and this worked wonderfully. jimenagalvez
Verified Purchase
Works. Gently
I have sensitive skin. It gets dry and flakes in the winter. This is one of the few products I can use that is strong enough to work but gentle enough not to irritate. I have even used the extra strength and it is also great but I had to work up to it. Makes my skin glow. Squirrels
Verified Purchase
Dr. Dennis Gross Alpha Beta Universal Daily Peel
This 2 step - (2 minute) facial treatment is a wonderful way to keep that gorgeous healthy glow between spa visits! MsRedhead
Verified Purchase
Lovemyskin
Been using these pads for 3 weeks now and I've noticed a significant difference in my skin's smoothness and the wrinkles I do have are fading away! I do use a vitamin c serum and of course Dr. DENNIS RETINOL CREAM. LovelySkin Customer
Verified Purchase
It works!
This product really works! I used it twice a week and I could tell the difference since it made my skin so smooth and the bumps were way less. You will notice some tiny breakouts but I assume it's part of the process. You will see the difference after couple of days because the skin get pretty much red after using it. But it's worth it especially if you have white heads and hormonal acne. MommyRN
Verified Purchase
I love this product!
I've been using Dr Dennis Gross's Alpha Beta Universal Daily Peel for approximately 6 months and my skin has never looked better! When I was younger I was always in the Southern California sun and rarely wore any kind sunscreen. By my mid 50's, my freckles aren't as cute nor we're the deep lines around my mouth, eyes and forehead. In just 6 months, even the deep lines are flattening out, I get comments on how fresh my face looks and I don't wear foundation anymore. I don't use the Daily Peel every day, either. I could, but just forget to and still have great results. This is a product I will continue to use and recommend it to anyone who'll listen! MrsRipper
Verified Purchase
It Works!
I purchased this for my daughter and she loves it . It is gentle on her sensitive skin and gives her a healthy glow. Best peel for the best skin!
My face craves this peel. It give me a young youthful glow and smoothes out my skin. LovelySkin Customer
Verified Purchase
Didn't work
After seeing so many positive reviews I bought this product hoping it would work for me. Yes I know everyone is different. This had a horrible affect on my skin. My neck broke out so badly. I'm guessing I had an allergic reaction to something in the wipe. LovelySkin Customer
Verified Purchase
Milia: Gone!
I had two persistent milia bumps on the root of my nose. I did four days of this peel and they scanned over and then disappeared! If I wasn't stating on a retinol, I would definitely buy these again. Fixes everything
I have been using these for several months now, and they're like a miracle for any skin issues. They help stave off acne, slow down fine lines, and make my skin glow. I'll probably be using these forever instead of getting monthly facials. Hbmortster
Verified Purchase
Great Product!
I saw immediate changes in my skin clarity after using this product for a few days. Best part was that it wasn't irritating! I am trying the extra strength daily peel next! CJacques
Verified Purchase
Effective face peel
I like the way it makes my skin look! Gives it a nice refresh without having to go get a facial to remove all the dead skin. It doesn't work the way the instructions say for me. I have sensitive skin and the instructions say to leave it on after applying the neutralizer. I have to rinse my face or it will sting and make me red. I knew I would have to do that going into it. I have never been able to leave peels on my skin with a neutralizer. LovelySkin Customer
Verified Purchase
Fast, Lovely Results
Such great results without any post irritations to hide. Saw results after 2 or 3 days. I recommend this product for EVERYONE :) VERY PLEASED vanillajanella
Verified Purchase
Best daily peel
These are the best daily peel pads. They leave my skin smooth, my tone even and pores smaller. I've tried less expensive peel wipes that just don't work as well or leave my skin sticky. Great for travel
Excellent exfoliator and improves the texture and tone of the skin. I love the refreshing feeling after using the second wipe. You can use it on the back of your hands. Packs well! Heymonica
Verified Purchase
Missing Piece
I think this was the missing piece to my skincare routine! I use these about twice a week in the evening in place of my Retin-a micro. I'm no expert and not a doctor, but it seems like these pads are really brightening my skin and lightening my post acne hyperpigmentation. Very pleased with the results and will continue to use them in conjunction with my current regimen. EastoutWest
Verified Purchase