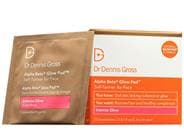 Reviews For
Dr. Dennis Gross Skincare Alpha Beta® Glow Pad for Face - Intense Glow
$38.00
40 Results
Turned face orange
I recommend finding/choosing a tinted self-tanner, especially if you're applying it to your face, so you can actually make sure you've covered everything. I was orange and streaky the first time I applied it. Tried a week later, after exfoliating and applying a moisturizer before hand to give it an even foundation. Not as streaky, but still orange. At least it fades within a few days. LovelySkin Customer
Verified Purchase
Natural color
These are awesome for your face when you want that subtle tan glow. It won't turn your face orange. Best to use alongside the daily Dr. Gross alpha hydroxy pads. Dr. Dennis gross
I first started using this amazing product about a year ago as I was looking for a good facial self tanner. this product not only provides a subtle tan but also a beautiful glowing look to my skin. whenever I use it I'm asked what I use on my skin...and get compliments on how fresh and beautiful my skin looks! Plus the color Never looks orange...just completely natural LovelySkin Customer
Verified Purchase
Great color
Consistently great color - non drying ! Used for a long time and love them more than any of the others tanning cloths! Very easy and natural
I have olive skin but wanted a little glow. I never use self tanner, so I was worried about looking orange and streaky. I read a lot of reviews and these seemed to be well regarded. I worried that the intense glow would be too much, but it's not. The color is very natural and gradual. I used it it for 3 days in a row before I got the color I wanted. The application is so easy and absolutely no streaks or splotches. LovelySkin Customer
Verified Purchase
LOVE this!
I had nice color with natural glow after my first use. It stayed with me for several days. Definitely will use and buy again and agin! LovelySkin Customer
Verified Purchase
Complete game changer
Once summer ends or whenever I return from a vacation, the tan on my face fades a lot quicker through washing, acids, etc. These towelettes have changed everything! They are fool proof to apply, and provide a noticeably lovely tan which is not orange at all. There are no streaks and the colour lasts for about 3-4 days which is great! Perfect pick me up when I'm feeling a bit pale. Also LOVE that it is an active product and not just colour. I'll never be without this again! RosiePosie
Verified Purchase
Easy Glow, No Breakouts
Pads work well to achieve a natural glow. I cut one pad in half to get more uses out of them as these are a pricey product. The 1/2 pad that I don't use I will store in a plastic bag to use later in the week. I have acne-prone skin and this product did not cause any breakouts. Kohlmk49
Verified Purchase
Great Glow
I love this product. With one use, I get just enough color to look so much less pale. It is easy to use and the glow last days. LovelySkin Customer
Verified Purchase
A little orange
I loved the peel effects, left my skin smooth! But, the color was a bit orange if I use two days in a row. One day is slight orange color that is evened out with makeup. I'm not sure if the other color option would be better or not. LovelySkin Customer
Verified Purchase
Great!
I like these as I like to use self tanner or get spray tans, but my face always fades faster than my body, so this is perfect to use inbetween. Also, I use really high sunscreen on my face, so its always paler than the rest of me, and this is perfect for making my face the same color as my body! LovelySkin Customer
Verified Purchase
Nice
I was pleasantly surprised with this product. The color I got overnight was natural looking after I showered and my face actually seemed to have a glow. I will buy again. LovelySkin Customer
Verified Purchase
Tan face
Love this product. Put it on at night and in the morning you have sun kissed bronzed skin. No oiliness or breakouts like other facial self tanners. Brianafsu
Verified Purchase
Perfect Way to Beat the Winter Blahs
Don't let the intense in the name scare you. These nifty little pads give you a nice hint of a glow when the sun is scarce. I have olive toned skin, and the pads do not make me orange like some self tanners. The anti-aging and smoothing ingredients are a nice bonus. LovelySkin Customer
Verified Purchase
Dr Dennis Gross Alpha Beta Glow Pads for face-Intense Glow
Love, love this product. I am very Impressed. I love the Glow and Color. Will be ordering more soon Work As Described!
I am not a big fan of self tanners, especially the smell and was worried about using these on my face, but I am pretty impressed! I use them once a week at night on a clean face. They aren't moisturizing for me, so I usually wait about 15 minutes and apply my nighttime moisturizer after. The tan is nice and not orangey, but I do have an olive skin tone to begin with. Only reason for 4 stars is price, but I sometimes cut the towels in half and use a second throughout the week. LovelySkin Customer
Verified Purchase
Love!
I use these about every other day is my anti-aging / repair previous sun damage routine. They give the perfect glow and color. I also use the Alpha Beta Peel pads too. I use self tanner on the rest of my body and these help balance the face / neck without looking ridiculous. Great for travel too! Really works!
I had a sample of these glow pads and wanted to try as my face goes very pale in the winter. After just one use my skin felt very smooth and I had a hint of color to my face the next morning. I have since purchased a box of these and they are really good. There is no streakiness or mess, and they give you a very natural glow which lasts several days. I will definitely buy them again and would recommend them to anyone who is contemplating trying these. LovelySkin Customer
Verified Purchase
Glow Pads
Love! I get so many compliments on my skin when I use these. Just enough color. You can deepen by reapplying! LovelySkin Customer
Verified Purchase
Sun-kissed glow
Love these tan towels, get a fabulous healthy glow without the horrible smell, best tan towel I've tried. LovelySkin Customer
Verified Purchase
Works
This works better than my spray tans. You only need one or two swipes across the face. Any more than that ends up being way too dark or patchy. I usually have enough for my décolleté, and sometimes even my arms after. Great way to keep up the winter glow. LovelySkin Customer
Verified Purchase
Dr. Dennis Gross glow pads
Very pleased with the color glow pads provide, not orange, just a nice hue. Glad I bought them. Plus, they add moisture to your skin. LovelySkin Customer
Verified Purchase
Beautiful Glow
Dr. Gross Glow Pads for the face give my face the most beautiful color without irritating my dry, sensitive skin. I have used them all summer and can't be without them! Theresa
Verified Purchase
Great product
I love this product, used for 1 month and see changes on my face, very glowy. LovelySkin Customer
Verified Purchase
I love these glow pads!
I've used these for a long time. They seem to keep my skin clearer and make it look more even. My favorite sunless tanning product for the face! Do not cause breakouts. Color is not streaky and not too orange, just nice and even! I would recommend this product to others. I also really like the Dr Dennis Gross brand in general! Good quality products. I will continue to purchase! LovelySkin Customer
Verified Purchase