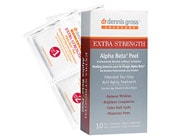 Reviews For
Dr. Dennis Gross Skincare Extra Strength Alpha Beta® Peel (10 Packettes)
6 Results
Satisfied
Very satisfied with the results for the price. Convenient at home use, simple directions, noticeable results. I use once a week and have noticed that my face is generable more vibrant; clearer, cleaner, more youthful looking. I have sensitive skin and this does not irritate my face or neck at all. LovelySkin Customer
Verified Purchase
Love the results!!
I have really sensitive combination skin I had put off trying this for fear that it would dry me out and make me peel, but I woke to a really refreshed face! I was looking a little bumpy lately so I thought a peel might be in order to smooth me out. I had a few small zits on my chin that I was worried about irritating but the peel actually healed them and the rest of my face looks great! My skin is smooth and even and a perfect glowing texture. It's strong but not irritating. I would highly reccommend this product! LovelySkin Customer
Verified Purchase
extra strength daily face peel by Dr. Gross
I have used 12 treatments and don't really see much results. Can you recommend something better for the discoloration on my face? Thank you! LovelySkin Customer
Verified Purchase
Good peel
I have very sensitive skin and this peel does not irritate my skin. I have been using this product once a week for the past month and love the way my face feels like I just had a facial. This works!
I use this every 3 days and from the 1st day that I used it my skin felt smoother. I'm on the Jan Marini complete skin care system and they have worked well together. I highly recommend. LovelySkin Customer
Verified Purchase
Work horse!
This peel does take up the prior peel a notch. I do peel from it and once that is done, my skin does glow more. I do not like having to go through the peel stage as my skin looks flaky and worse but the results are worth it. LovelySkin Customer
Verified Purchase