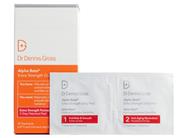 Reviews For


Dr. Dennis Gross Skincare Extra Strength Alpha Beta® Peel (30 Packettes) View Product Details
Write a Review - Receive 50 Rewards Points!
Tell us your thoughts about Dr. Dennis Gross Skincare Extra Strength Alpha Beta® Peel (30 Packettes) so we can help you find the right products. With your review, you'll also receive 50 Rewards Points. Please note that it may take up to 72 hours for a review to appear on site. All reviews are subject to moderator approval.
Write a Review
25 Results
Regular Customer
Not bad at all, my skin starts to look healthy and glows. I'm gonna keep using on a regular basis.
Best product!
I use one every couple days, no harsh reaction or smell and has cleared my face up quickly. Only thing to consistently work for my skin.
I'm in love!
I started using this peel about a month ago. I use it every other night. I just love this product! I have sensitive skin and this does not irritate or make my skin red. Just the opposite, really. My pores look smaller. My skin feels smoother. It's one of my new favorite products!!!
Glo Like JLO!
I cannot believe the difference this product made in my skin! Goodbye dullness. Hello, shine! My fine lines are reduced, and my skin looks the healthiest that it has in years. Give this product a try. You won't be sorry!
Must have!
I love it!! Made my skin so healthy and plump. Will definitely buy again in a heartbeat!
Alpha pads
I used these from a salon and they worked great. My skin looks fantastic. What a great way to exfoliate without much work.
So far so good
Just started using Dr. Dennis Gross Skincare Extra Strength Alpha Beta® Peel. The first two weeks I only used it every other day as my skin is sensitive. I am starting to see some improvement in my skin texture, wrinkles less pronounced, I will continue using the product in hopes that the improvement continues.
Love these pads
I've been using the extra strength pads for 2 years and can't imagine what I would do without them! I use them about 3 x per week and they are also great for an instant glow first thing in the morning.
Works wonders
Love this product! I use it 1-2 times a week for a skin pick-me-up. Smooths, minimizes pores and creates glowing skin.
good.
It makes my skin clean and not irritate my skin. I used it 3 times/week and my skin is very glowing. But i prefer NeoStrata. :-D
Medium quality.
Before buying this product, I tried Neostrata and that made a huge difference. But it's quite expensive. So i decided to try the cheaper peel and i bought this product. My skin was smoother but do not make difference like Neostrata stuff. Won't buy this again.
Dr.Dennis Gross skincare extra strength alpha beta peel
I love these peel wipes. They are strong, so start with the original/gentle wipes if you are not sure. I have been using micro- retina .1% for years. It takes about a week with nightly use and then your skin will start looking clearer and brighter!! These peels really help with blocked pores which I have a lot do to hormone imbalance!! Give them a try - I believe if you are faithful using them you will love the results, I do!
A mainstay in my life
I ran out & noticed a huge difference in my skin texture, product application, & overall complexion. Overall much more dull & hyperpigmentation troubles. Ever since started using again I no longer feel in desperate need of expensive procedures & feel confident in my skin. I admit do not use everyday. My skin can be reactive if not careful.
Not irritating
I thought these might irritate my skin because they are a step up from the other ones, but my skin even finds them soothing.
Lets see
I have been using the regular strength packettes and have been very happy. I just started the extra strength and the difference that I could tell is the smell is much stronger. A bit of an alcohol smell so I will see how my skin reacts, so far so good. If it becomes too strong I will go back to the regular strength packettes as I was very happy.
Super Smooth Skin!
I have a ton of little "bumps" on my forehead that arent really pimples, but my skin just isnt perfectly smooth. With only a few uses, my forehead is already way smoother! It definitely evens out your skin tone and brightens your complexion. Worth every dollar - and way cheaper than a professional peel! Easy to use and quick -so good for busy people who still want the benefit of a chemical peel but dont have time for the spa!
Nice glow
I like using this product during the summer as a daily exfoliate to eliminate all the sun care products I use. Its lovely for it leaves my face feeling very clean and break out free
Perfect Travel friendly facial
These packets work like a dream for a quick, easy and clean fix up when you are on the go. I use this at home as well. Peel itself is not too strong for my oily/combo skin. I live in a tropical region, the strength works well with the humidity. A little pricey but will buy again. LovelySkin delivered this product within 5 working days as I live in Asia! RADNESS
very natural flush!
These peels get rid of dry winter flakey skin and leave skin glowing, dont need to add anything but basic moisturizer for rosy glow. Clears up congested acne too and helps fade marks faster
just ok
these did not seem to do much for me. the 1st step peel pad always seemed more dried out than the 2nd step pad, i would need to use 2 to feel like it was doing anything.
Extra Outstanding!
I have always followed the easy instructions (use the first towelette and leave on skin for 2 minutes followed by second towlette), which are essential to amazing skin. After several years of use, I cannot start my skin regime without these essential packets. I am 64 years old and wherever I go, I am complimented on the radiance of my skin. I am convinced it is from this product. I have sensitive skin and most products irritate. However, the Dr. Gross Skincare Peels always leave my skin feeling soft and actually appearing more youthful than it should!!! I consider it the Alpha Beta Cs of great skin!
Dr. Gross Extra Strength Facial Peel
I have cystic acne so I cant use anything abrasive like brushes or scrubs. These pads do a great job of exfoliating my skin and help with pigmentation from previous breakouts. I use them a few times a week (not everyday), especially in the winter when my skin is drier. For some reason, I find that I always wake up oilier the morning after using these, but after I wash my face everything looks nice and smooth. I definitely recommend these for people who cant use abrasive products.
Great for Travel
Reduces lines and leaves skin soft. In winter months I apply additional moisturizer on top. In the summer months, it does not make skin shiny like some moisturizers. Individually wrapped packets are excellent for travel because they are compact and easy to carry and there is no risk of spills. I have been using this excellent product for many years.
Am on my second purchase
Great product, does not leave your skin sticky, there is no rinsing and works well. Does what it says. Very convenient to use.
best for travel & sharing
use this easy packaged peels for travel and sharing. worth the money! easy to use. works awesome! thx dr grossman...