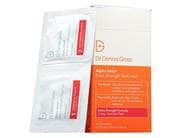 Reviews For
Dr. Dennis Gross Skincare Alpha Beta Extra Strength Daily Peel
$17.00
237 Results
The BEST.
I've used these for years and can't live without them. I've tried others but I always come back to these. My holy grail. LovelySkin Customer
Verified Purchase
Love this
I love how this makes my skin feel! LovelySkin Customer
Verified Purchase
Love love love
Absolutely love this! My new favorite thing - easy to integrate into any skincare regimen. I've been using daily and have noticed an increased glow. Helps my other products work better. I plan to give as holiday gifts this year! This stuff is my go to!
I love this stuff! For years now I have been purchasing this product for my oily acne prone skin. It has always cleared my existing breakouts and prevented new ones from forming. It also makes me skin feel super smooth when I wake up in the morning. Leannab
Verified Purchase
Wonderful
I've been using this product for years. It's great and effective. LovelySkin Customer
Verified Purchase
Good classic
A good classic skin staple. It is strong and I believe not recommended for daily use but two to three days per week at most as to keep the natural lipids and acid mantle healthy and intact. I am a medical esthetician and so have done years of research and experimentation. This has been in my arsenal for 10 years now and it is a great product for the Bi-weekly deep clean. Sometimes simple is best with skin care, a gentle cleanser, a clean non fragrance moisturizer, sunscreen or hats, and this product. This product is strong enough that you can avoid harsh cleansers, exfoliants, office peels, and toners. Good home peel
If you would like to make a chemical peel at home it's a great product for that! Peeling very smoothly and gentle, not aggressive. I see visible effect after the first use. SkincareVera
Verified Purchase
Purchased for a Girlfriend's 60th Birthday
My friend keeps calling me to tell me how fantastic her skin looks and feels and is thrilled that I purchased this for her as a gift. LovelySkin Customer
Verified Purchase
So far so great!
I've been using the Extra Strength pads daily for 1.5 months with iS Clinical serum and/or moisturizer after and have noticed a new all-over glow and significant reduction in sun spots!! My face feels so soft and smooth! Can't wait to see those spots gone! LovelySkin Customer
Verified Purchase
I love these things!
I have been using these pads for years and I love them. I have "mature" sensitive skin and use 2-3 times per week with no problem at all. They do an amazing job of exfoliation and my skin has a really nice glow afterwards that lasts until the next time I use one. My skin looks healthy. I cannot recommend more highly. Barbara1
Verified Purchase
Flawless & Smooth
I use these maybe two times a week, and I really see a difference in the cleanliness in my skin. I also notice less breakouts on my skin while using this product. LovelySkin Customer
Verified Purchase
The daily miracle
I was hooked after the first application! These are the best and I will continue ordering them. My face was so smooth and felt amazing and I love the results. Beautiful1
Verified Purchase
Looking Better
I have noticed significant reduction in the appearance of sun spots on my face and clearer skin in 3 weeks since I started using the daily peel. I used it every day for the first 2 weeks then every other day since. I will be buying this again, love the results! Dr. Dennis gross daily face peel
These face peels are the best .. I noticed a change in my skin in less than a week! More even skin tone and smaller pores! A must buy! Brighter than Sunshine
These peels are magic. After using for 1-2 weeks my skin was noticeably brighter and many old acne scars faded. Continual use improved my complexion immensely. These extra strengths are not for sensitive skin. Work great on normal and sensitive skin!
Quick, effective and the results are visible! The downside for these daily peels is that they are a bit pricey for everyday use. LovelySkin Customer
Verified Purchase
Amazing every day product!
I am just in love with these! Great product to use every single day, I have oily skin so this is a good way to get my exfoliating in even on days when I am in a hurry and don't have time to shower. Also great to use after working out and super quick and easy! I like to buy them from LovelySkin so I can get points for the purchase. LovelySkin Customer
Verified Purchase
Love this stuff!
I've been using these for gears. It's like a daily mini peel that's gentle enough for everyday. My skin feels great afterwards. Also their tanning pads are great too! The color is natural. Dr. Dennis Gross Skincare Alpha Beta Extra Strength Daily Peel
This peel is great! I use it morning and night. It makes my skin feel fresh and clean. It also has improved my skin tone and lightened my dark spots... Definitely would recommend! LovelySkin Customer
Verified Purchase
Love these!
Great brightening pads! I like to use these 1-2 times a week to keep my skin bright and fresh. LovelySkin Customer
Verified Purchase
Excellent
Love these pads! Made a big difference with my acne. LovelySkin Customer
Verified Purchase
A noticeable difference
These make a difference, leaves skin smooth and shiny, in a good way. LovelySkin Customer
Verified Purchase
When you want to give your skin a boost!
These peel pads are amazing. I don't use them as often as I should, but whether it's one time a month, or three times in a week, they make a visible difference in my skin. It just feels better...more toned, even, and healthy from the inside-out if that makes sense. I highly recommend whether to treat yourself occasionally or work into a nightly routine if you can! LovelySkin Customer
Verified Purchase
Make my face too dry
Make my face too dry LovelySkin Customer
Verified Purchase
Brighter skin!
Love this product. Came really fast too. Brighter skin. I cut the pads in half to get twice as much use out of them. LovelySkin Customer
Verified Purchase