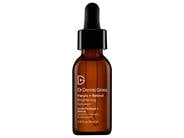 Reviews For
Dr. Dennis Gross Skincare Ferulic Acid + Retinol Brightening Solution
$88.00
21 Results
Love it.
I love the product, definitely I will rebuy it. vbelopolsky
Verified Purchase
Worth it
The Dennis Gross skincare line is truly the best out there. I feel like every other product besides this one has been a gimmick in comparison. I use the alpha beta peels weekly and notice a difference in just one application. I have been using this serum every night and have never loved my skin so much. I also wash with hemp/sunflower/coconut oil and that treats me well too, so I really can't tell which is making the difference. But this is a line I trust very much and spend the extra money on. Magic serum
I bought this serum purely based off of other reviews and I'm so glad I did! I am currently ordering my second bottle now. It pairs very well with the chemical peels pads and I have seen an immediate difference in my skin. Less texture, less acne flair ups, and my skin has undoubtedly lightened! LovelySkin Customer
Verified Purchase
Excellant Product
I have used this for about 6 months to help with some discoloration on the side of my face. It has not only helped to fade the discoloration, but the overall texture and feel of my face is much better. It definitely is brighter and smoother. It can be drying so I suggest starting off slow and building up to every day. It worked quickly to improve my skin. I noticed a difference in about 1 week. When I stopped using it for a bit, my skin did not look as good. I now use it everyday and I am quite happy with the results. LovelySkin Customer
Verified Purchase
Must have!
This is game changer for me! I use it every night! And have noticed a huge difference in my skin. Bright and luminous! LovelySkin Customer
Verified Purchase
Very good!
This is really good! I used it together with Dr Gross retinol eye cream as is not enough for my 50 year old age. But, it works perfect. I used to have very fine lines underneath the eye is now almost unnoticeable. I am very happy with the results. In fact, I used most of the Dr. Gross retinol products. LovelySkin Customer
Verified Purchase
Love it for brightening
I made the mistake of not repurchasing this serum after I ran out: huge blunder. The serum is highly effective at controlling hyperpigmentation and keeping a smooth visage. Unless they change the formula or dramatically increase the price I will continue to come back. KristinHT
Verified Purchase
Great serum!
I am very serious about protecting my skin from sun damage. This serum is awesome because it contains ferulic acid. It glides smoothly on my skin. LovelySkin Customer
Verified Purchase
Smooth and Non-Drying
This seems to smooth my skin and doesn't irritate or dry it out. Only issue is that I'm not sure it has the added brightening that I've gotten with other serums. Is a nice alternative to standard retinols but not sure what concentration this one is. LovelySkin Customer
Verified Purchase
good product
i really like all Dr. Gross' ferulic + retinol products. This has definitely helped my overall complexion. Darker patches and redness are improving. I see better results when used daily as directed. The reason for only 4 stars is that it's a little hard to put on (even with the enclosed pads), as it is a liquid. I feel some of the product gets wasted. I will purchase again. LovelySkin Customer
Verified Purchase
So far have loved all Dr. Dennis Gross products!
I've only used this a few times but my skin looks more alive. My daughter even commented as such and she had no idea I had used this product. I think it would be great if used consistently. I have sensitive skin & his products are about the only ones I can use without my skin turning red and blotchy. My daughter is now using it to lighten acne scars. LovelySkin Customer
Verified Purchase
Love this product!!!
I have somewhat sensitive and dry skin. I am so in love with the Alpha Beta Ultra Gentle Daily Peel so I have always wanted to try something different from Dr Dennis Gross brand. This one did not disappoint me. It absorbs quickly to my skin and leaves my skin soft. I love it so far!!! LovelySkin Customer
Verified Purchase
Lots of compliments
I use this product every morning. I have a lot of sun damage and age spots. I don't notice them as much as before but they are still there. This does not irritate my skin like other retinol products and I do use a sunscreen daily. My skin feels smoother and I receive lots of compliments on my skin so maybe this product is working. I will continue to use. LovelySkin Customer
Verified Purchase
its ok
I think SkinCeuticals C E Ferulic even does better. Both give me smooth and bright skin. Somehow I like the Skinceuticals more. LovelySkin Customer
Verified Purchase
love it
I have been using this Brightening Solution along with Dr. Dennis Gross Extra Strength Peels. I apply this after I use the peel and and it has transformed my skin. It make my skin radiant and very smooth. Ive used his products for about 3 years because they work. Great serum
This is a great brightening serum that layers well with other products- but you *have* to use it everyday to see results. I would say its retinol may not be as potent as others out there, but it is a good everyday A.M. and P.M. serum. Absolutely wonderful
Received this full size as a gift with purchase and love it. Great product from a great brand. Helps my ageing skin look so much better. Easy to use and layers well with other products. Thanks LovelySkin!!!! Fairly happy with product
I do like the way this product makes my skin feel. Ive purchased once and will probably purchase again. I am just not sure I like it well enough to make a regular part of my skin care routine. LovelySkin Customer
Verified Purchase
liquid magic
i love this product and can tel its working, helps with sun damage and I use it after the 2 step peel. this is a keeper. Love all the products by Dr. Dennis Gross that I have tried. Lighten those Dark spots
I use this after the 2 step pads and have to say I really see it helping. I have sun damaged skin and this is helping to break up my dark patches and clear up a lot of the redness I have that I thought was just natural blush but turns out to be just redness. The product is easy to apply and soaks right in. Feels great and works. What more do you need? LovelySkin Customer
Verified Purchase
Dr. Dennis Gross
I love this product! I use it along with the 2 step pads and my skin has never looked so good. My dark spots have even lightened. LovelySkin Customer
Verified Purchase